PlayStation Indie Arcade Pre-GDC Wrap-Up
Posted by Nick K on March 27th, 2013 | 3 Comments | Tags: Divekick , Hotline Miami , Rain , SPORTSFRIENDS , Velocity Ultra , Zombie Tycoon 2: Brainhov's Revenge
As I reflect back to Monday night's PlayStation Indie Arcade event in San Francisco, a gathering of over a dozen indie games for PS3 and Vita, I recall the real message to it all: Indie is here to stay. Despite all the "next gen" talk of hardware specs and capabilities, it'll be the indie developers that will push the envelope for several years to come.
PSNStores is at the forefront of all this, witnessing the indie growth with nothing but front row seating. I say that because this site focuses every iota, every molecule, and every nanometer of its being on the smaller games of our beloved PlayStation Network. Sure, we're a fan site. If you want to label us then there you go. At the PlayStation Indie Arcade, I was at home talking one on one with several indie devs that I and the other editors are in frequent contact with via email and instant message, sometimes on Skype in the case of the Guacamelee dev Drink Box.
Hotline Miami (PS3/Vita)
The first game I laid my greedy hands on was Hotline Miami before offering the controller over to famed PlayStation Editor Colin Moriarty from IGN. My short play session with the early PS3 build taught me the controls, which were somewhat complicated at first, and gave me a general sense of the game. It didn't take long for me to come to the realization that Hotline Miami was not the GTA-like game I thought it was. It has a familiar focus on "cheap deaths" that PSNStores editors experienced with Life of Pixel. It requires an ability to stomach extremely frequent deaths, persevere through retro trial-n-error gameplay, and hone in on your fastest reflexes. At its core, it's a dual stick shooter with a tinge of puzzle by way of the reflexive shooting. It's extremely violent and was playable on Vita as well. Definitely look forward to more about Hotline Miami on PSN/Vita.
Dive Kick (PS3/Vita)
The next game I jumped on was Dive Kick from Iron Galaxy Studios. Eric was able to get some of his own hands on with the game at PAX East in Boston over the weekend, as did I at Monday night's PlayStation Indie Arcade in San Francisco. Both on Vita and PS3. I want to tell you about my time with the PS3 version though, because there were two things that happened that made it the most memorable moment of my entire evening. First of all, Mad Catz had made a pretty rad custom arcade controller assembly for Dive Kick. I hesitate to call it an arcade "stick" because there was no stick. Just two giant buttons for the jump and the kick actions. That's literally it. But the game gets deep, intense, and difficult to walk away from after just a short while on the controls.
Secondly, I was able to play Dive Kick for the very first time alongside the "illustrious" Sid P. Shuman from the PlayStation Blog (I don't remember if P is his actual middle initial, but that introduction just sounds so much better with it). Not only was it my first time, but it was his as well. This was the first time I had the pleasure of meeting the host of the PlayStation Blogcast, and since we are both pretty big fighting game aficionados it seemed fitting that Dive Kick taught us both some new tricks. I think if it weren't for all the lights and loud music, the sardines-in-a-can feeling of an over capacity room, and free food outside, we could have very well played the night away. But do not mistake my words…I save my man crush for the bearded baller Nick Suttner.
Rain (PS3)
Another game I spent a lot of time in front of was Rain, "a tale only the rain knows…". I was able to speak with Dais Kawaguchi, SCEA Associate Producer of International Software Development, about the hands-off live demo. After Kawaguchi and two Japanese C.A.M.P. developers plopped the Sony Pulse headset on my head I was taken to an aural world where rain fell, and I was the only one who heard it. The gentle footsteps of the the incorporeal little boy as he was chasing down a ghostly girl over cobble stone roads and wooden-plank walkways was subtle, yet foreshadowed the mood of what looked to be a beautiful unknown for the Tokyo Jungle dev.
Zombie Tycoon II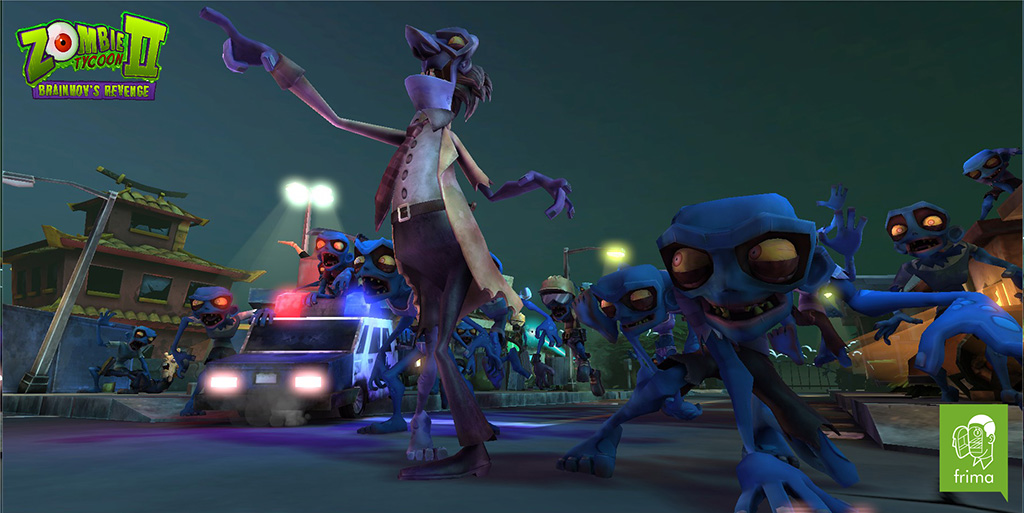 Click to view full gallery...
Here we are, talking about a sequel to one of the earliest minis titles Zombie Tycoon. In Zombie Tycoon II: Brainov's Revenge gameplay is strikingly similar but everything is just so much better. It's finally been handmade for PS3 and Vita with all the Cross- this and that you could ever want. Yes, including Cross-Buy. There are trophies for both featuring that of the illustrious platinum. Pop, zing, that platinum is coming.
Velocity Ultra (Vita)
The original Velocity was such a good game that it could have single handedly been marketed as the poster child example of what minis could deliver. It came as a surprise to me when I discovered that Futurlab was none to satisfied with the original and this is why they wanted to redo it exclusively for Vita. With many enhancements such as visuals, mapping bombs to the right analog stick, and front touch screen teleporting, Velocity Ultra will reinvent itself within a new audience on Vita. And hey, it's got a platinum trophy!
Thomas Was Alone (PS3/Vita)
I fell in love with this simple little platforming puzzle game after the very first level. The simple mechanic of switching between different sized rectangles and moving them into puzzle solving positions was a bit of quick fun that still required a stint of grey matter exertion. Thomas Was Alone is on my Must Download list of 2013.
Toro's Friend Network
Click to view full gallery...
This was a difficult game for me to get into simply because I'm very comfortable with having 80 friends in my PSN Friends List and don't really want to add more. Those out there with a need for additional PSN friends will find Toro's Friend Network a valuable tool. But the app/game goes deeper still with quests and minigames like the friend cave and your personal space. Lobbies allow you to hook up with strangers or chat with friends. All of this is set to a relatively thin Eastern storyline involving Toro the Cat longing to become human.
Related announcements:
PS4 will be getting two Sony Pubfund games: Blacklight Retribution and Primal Carnage: Genesis. Sony is also making it easier than ever to publish your own games onto PlayStation platforms, not just with support for Unity on PS3, Vita, PSM, and PS4, but also with a new website. www.playstation.com/develop.
Missed opportunities:
There were a lot of games at the tightly packed PlayStation Indie Arcade. So tightly packed that it made it rather difficult to get around and play everything. I dropped the ball on an opportunity to play Johann Sebastian Joust for example and couldn't squeeze into the acreage of 6 foot + tall giants to speak with Shawn Allen about Treachery in Beatdown City. Here's to hoping Chris is picking up my slack at GDC this week. Go team!
---