PSNStores 2014 Game of the Year Awards: Day Three
Posted by Curtis H on January 8th, 2015 | 0 Comments | Tags: GOTY 2014
Day 3 of our 2014 Game of the Year Awards brings us the Best Visuals, Soundtrack, Story and PS4 Game. Once again all of these categories came down to the wire with one in particular being decided just hours ago. Each of the winners and honorable mentions below are all worthy of their nominations.
inFamous: First Light
This category is a little hard to narrow down simply due to the variety of visuals in games these days. From a watercolor style in Child of Light to something a big more realistic with inFamous, all of the nominated games look fantastic. inFamous: First Light stands out especially while using your neon powers at night time. It probably speaks to how impressive the visuals in inFamous are considering that it was also one of the first games last year to patch in a photo mode for players.
Honorable Mentions: Child of Light, Velocity 2X
Luftrausers
2014 had a ton of great video game soundtracks so narrowing them down to three proved difficult. So what put Luftrausers above the rest? I think this quote from Brad's review explains just that:
Each customization has its own name and more interestingly, its own piece of the soundtrack. So when you remix your build you're remixing the overall background music too, a really neat touch. Regardless of what soundtrack you have going for you, there is an excellent part that is the same across all soundtracks. When you manage to stay alive long enough to hear it, it never fails to get you stoked.
Honorable Mentions: Rogue Legacy, Transistor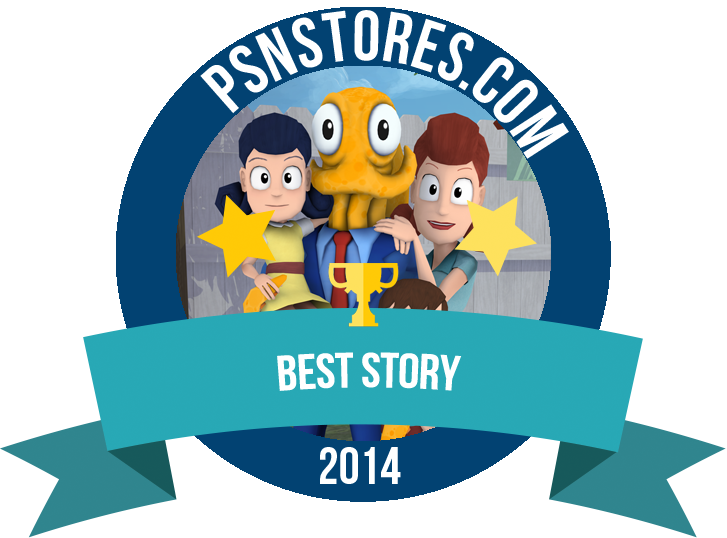 Octodad: Dadliest Catch
There's something really nice about being able to play as just a regular, average, completely normal dad. In Octodad we got to experience a day-in-the-life with a dad and his family. Nothing strange going on here.
Honorable Mentions: Danganronpa, Valiant Hearts: The Great War, The Walking Dead Season 2
Velocity 2X
Eric: When I had a PSP Go, Coconut Dodge is what I'd show friends and family who wanted to see what that portable doohickey had on it that was better than Tetris. When Velocity released (and later, Velocity Ultra), that was the game I'd use to show off my Vita. Other games may look fancier, and I hear there are AAA titles on the system, but I'm addicted to seeing people's faces the first time they truly get a hang of short-form teleporting. I don't usually hang around long enough for them to experience long-form teleportation, but I fondly remember the first time I teleported back to the beginning of a section and thought, "woah." Now that I have Velocity 2X on my PS4 and my Vita, I have double the opportunities to sell platforms to whomever is hanging around at the time.
Honorable Mentions: Fez, Rogue Legacy
Our Game of the Year Awards are not done just yet. Be sure to check back tomorrow as we reveal the PSNStores pick for 2014 Game of the Year. In the meantime our staff members are posting their personal favorite games of the year which you can check out below. Also be sure to check out Day One and Two of our Game of the Year coverage if you haven't already.
PSNStores 2014 Game of the Year Awards: Day One
PSNStores 2014 Game of the Year Awards: Day Two
---