Review: Yu-Gi-Oh! Legacy of the Duelist
Posted by Collin on August 19th, 2015 | 1 Comment | Tags: Konami , Other Ocean Interactive , Yu-Gi-Oh! Legacy of the Duelist
Yu-Gi-Oh! Legacy of the Duelist marks the first Yu-Gi-Oh! game to grace next-gen platforms. Legacy of the Duelist takes you through four seasons of the show and has you recreating classic duels with the characters from the show. For fans of the series, there is a lot here to play and relive. For beginners, it's a good way to get caught up on the show and learn what the game of Yu-Gi-Oh! is all about.
For those uninitiated, Yu-Gi-Oh! is a trading card game (TCG) that has you dueling monsters, placing spell cards, and activating trap cards when the time is right. Strategy is key, and perhaps even more important is building your deck of cards. Knowing what cards to place in your deck can be difficult, but the game offers clear descriptions for each of the cards. Easy deck building tools allow you to determine what cards you want in each deck. Built-in tutorials also help new players, or players who haven't played the game in a while. These tutorials are very thorough and is beneficial to view them multiple times.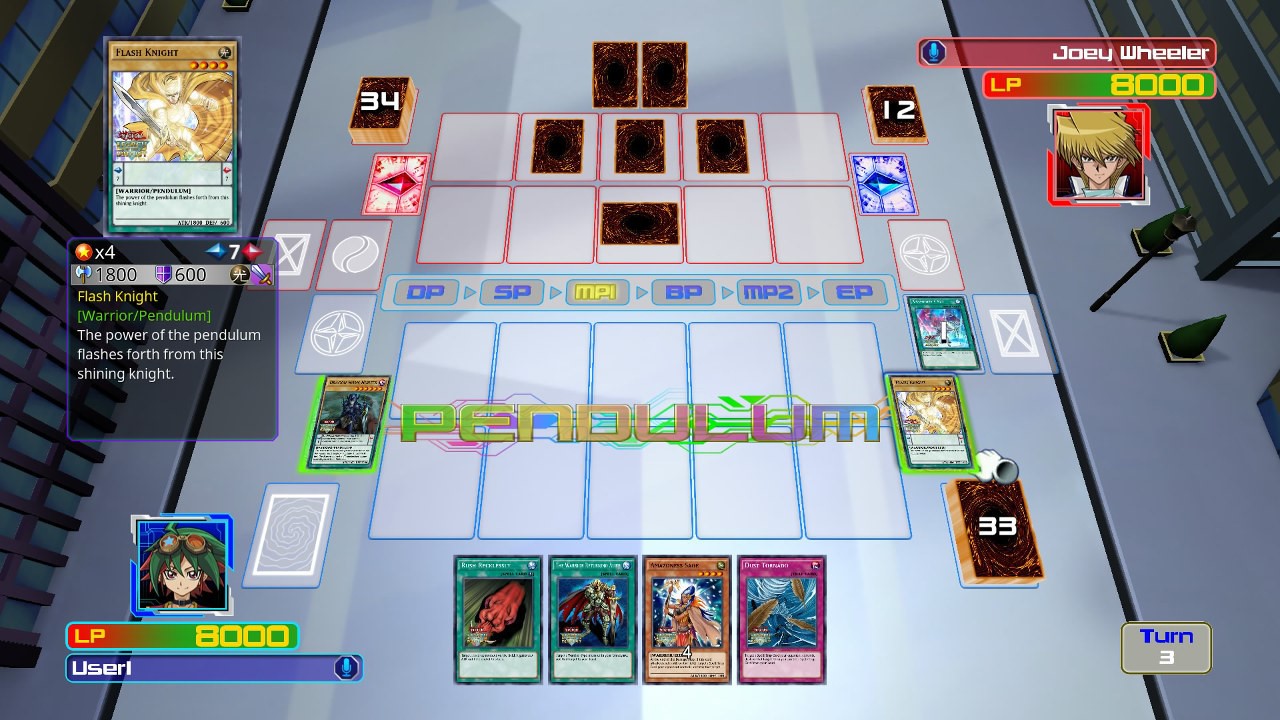 The single player content spans four different stories from the show. The original Yu-Gi-Oh!, GX, 5D's, and ZEXAL, acts as the story to the game. A section for the newest series, ARC-V is shown, but only allows you to play a duel that teaches you pendulum monsters, which is a new addition to the series. DLC is currently available for the other four series, but DLC for ARC-V may be coming down the line. Sadly, each of the stories is told through text, with stills of the characters appearing in the background. It would have been nice to have some of the recorded dialogue from the show in the game. Thankfully each dialogue section between duels isn't too long where you'll be uninterested. Each duel from the show is recreated, with each character having their specific decks from the TV show. When starting up a duel, you can choose to play with a deck you have created, or a deck that your specific player you are playing as, used in the show. It's a nice touch for players that want to relive the duel, and players that want to use the cards they have gathered. After a duel is won, a reverse duel can be had, where you'll play as the opponent and try to defeat the protagonist's deck. Duelist Challenges allow you to face certain characters' decks from the show. Each duel awards you with a set of goodies, including: packs, decks, avatars, points to buy new cards, and more. There is a lot of single-player content here, and it will satisfy newcomers and veterans alike. For players looking to go online, Ranked Match, Player Match, Sealed Play and Draft Play are all offered. Ranked Match has you taking on players for spots on the leaderboards, and Player Match allows you to invite a friend to play online. Sealed Play and Draft Play have you playing with a temporary deck made from battle packs. Sealed Play is where your deck is instantly made from five different battle packs, and Draft Play has you drafting cards in 3 different rounds of opening packs. Both Sealed and Draft Play can also be played offline against the computer, but challenging online players is where you'll want to be. In my online experience with the game, there is an active community and the online play works well, but when starting up a few matches I did have some disconnects. For the most part however, online play worked well.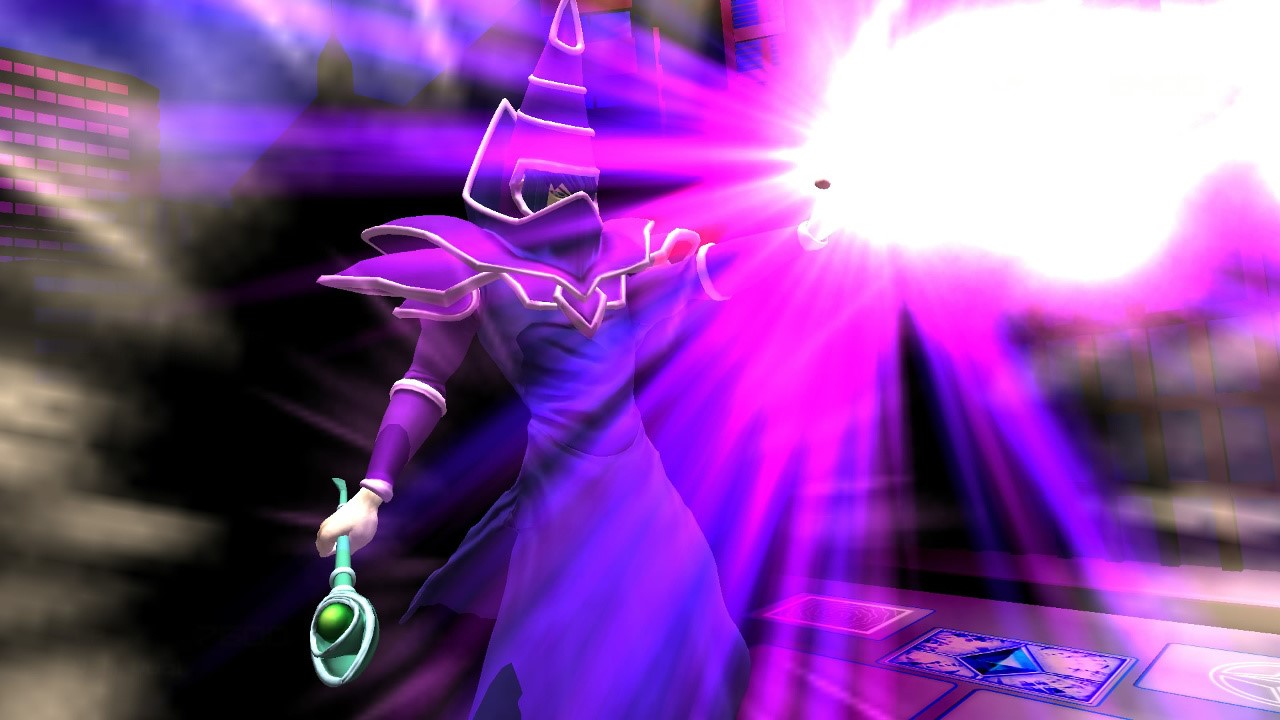 The presentation in the game is serviceable. Menus in and out of the game are simple to navigate. When in the game, it may be daunting to learn all the different phases for newcomers, but over time, you'll be switching phases, summoning monsters, and attacking your opponent. Selecting a card in the game shows you the entire card, including its description, monster type, and attack and defense. These descriptions are easily read, and the more you play, the more you'll remember what each card does. The play mat does not change from each duel, but the outside area does change depending on what environment the characters are in at the time. There aren't a ton of different backgrounds, as you'll see most of them a few times in a row. A nice addition to presentation is when attacking with a powerful and popular monster, a small cutscene will appear with them being summoned and launching an attack. It isn't a game changer, but it gives you satisfaction when you attack with a powerful monster.
Yu-Gi-Oh! Legacy of the Duelist almost feels like a complete package for veterans and newcomers. It's a great way to learn the cards and get caught up on the show. The ease of use in deck building tools and loads of single player content will keep any player playing for a while. After you complete the single player, an online mode is there to keep the longevity of the game going. Voice acting in the game, plus more content for ARC-V would have been nice, but it acts as a good tease of what's to come. If you are a hardcore fan, or someone who is interested in becoming one, this is the game to buy.
A copy of this game was provided by the publisher for review purposes. For more info on our review policy click here.
Score:
What I Like:
Great Tutorials
Loads of Single Player Content
Ease of Use Deck Building Tools
Special Monster Cutscenes
What I Dislike:
Lack of Voice Acting
ARC-V Content
---