Review: F1 2016
Posted by on September 17th, 2016 | 0 Comments | Tags: 2016 , Codemasters , driving , F1 , F1 2016 , Formula 1 , Motorsports , PS4 , Racing , simulation , Sports
F1 2016 is a Formula One simulation racing game available from retail stores and for download from the PlayStation Store for the PS4. Formula 1 is the absolute pinnacle of motorsports with the first-ever F1 season taking place across seven races for the World Driver's Championship in 1950 following the formation of rules and standards in 1946 which followed a period in which F1's premise was shelved due to World War II, while the introduction of the World Constructor's Championship came in 1958. F1 2016 is the official game based upon the 67th season of the sport, although there have been many F1 games which were not officially licensed to a particular season dating back to the arcade game F-1 which was developed and published by Atari in 1976. The first F1 game on PlayStation was the brilliant Formula 1 by Psygnosis in September 1996, while some F1 games had driver endorsements such as Nigel Mansell's Grand Prix and Ayrton Senna's Super Monaco GP II, although not every officially licensed F1 game has been set within that year's season as the PC game Grand Prix Legends was released in 1998 yet is dedicated to the 1967 season, but what can Codemasters' F1 2016 creatively bring to the table in order to elevate it beyond what has went before it?
F1 2016 features all of the official licenses for the 2016 season which comprises of 21 tracks situated in various locations around the world including: Melbourne, Australia; Sakhir, Bahrain; Shanghai, China; Sochi, Russia; Barcelona, Spain; Monte Carlo, Monaco; Montreal, Canada; the introduction of the all-new street circuit in Baku, Azerbaijan for the European Grand Prix; Spielberg, Austria; Silverstone, Great Britain; Budapest, Hungary; the return of Hockenheim, Germany after not being included on the 2015 calendar; Spa, Belgium; Monza, Italy; Marina Bay, Singapore; Kuala Lumpur, Malaysia; Suzuka, Japan; Texas, USA; Mexico City, Mexico; Sao Paulo, Brazil; and Yas Marina, Abu Dhabi.
The cars have been updated to their latest liveries and introduction of the all-new American team Haas and the Lotus F1 Team being re-branded as Renault, while there are introductions of new drivers to the F1 grid such as the 2014 GP2 Series champion Jolyon Palmer and the 2015 DTM Touring Car champion and previously test driver for the Mercedes F1 Team, Pascal Wehrlein; earning their race seats at Renault and Manor Racing respectively. There are also some returning drivers who previously had a season as a test driver during a wait for a new race seat to become available such as Kevin Magnussen resuming his F1 career at Renault.
When Codemasters announced that F1 2016 was to include a ten season career mode; fans of Codemasters' F1 games genuinely believed with anticipation that an evolving career mode starting from when Codemasters released their first F1 game in 2009 all the way through to the 2016 season, therefore witnessing the evolution of power and handling from the V8 engine era through to the V6 hybrid engine era. There was even more excitement when thinking about the further two seasons potentially showing how the grid could evolve by having older drivers retire and younger drivers from young driver development programmes being promoted from another formula of racing or a test driver to a race seat. However, none of this is anywhere to be seen as the career mode starts in the 2016 season in a fashion reminiscent of F1 2010's career mode, while there are also no classic seasons which F1 enthusiasts have been asking for more and more ever since the inclusion of intermittent classic content in F1 2013. It is not impossible for an F1 game to cover historic seasons as F1 Career Challenge on PS2 officially covered the 1999, 2000, 2001 and 2002 seasons within the same game and Grand Prix Legends on PC successfully recreated the feel of the 1967 season, while a more recent example in other motorsports would be SBK Generations on PS3 which successfully integrated the 2009 to 2012 FIM Superbike World Championship seasons.
Career mode provides the opportunity to create your own F1 legend throughout a ten season career with your preferred choice of a short weekend consisting of three 30 minute practice sessions, one shot qualifying and a race distance of 25%, while the full weekend consists of three practice sessions of two 90 minute sessions on Friday and a 60 minutes session on Saturday before full qualifying takes place followed by a 100% race distance on Sunday. The custom weekend, short weekend and even full weekend allows players to adjust the appropriate lengths of each session from their respective presets to one shot qualifying, short qualifying or full qualifying and a race distance of 5 laps, 25%, 50% or 100% with the race length reflecting in the duration of practice sessions from two 90 minute sessions and a 60 minute session for 100% race distance to two 45 minute sessions and a 30 minutes session for a 50% race distance or even three 30 minute sessions for 25% race distance or 5 lap races.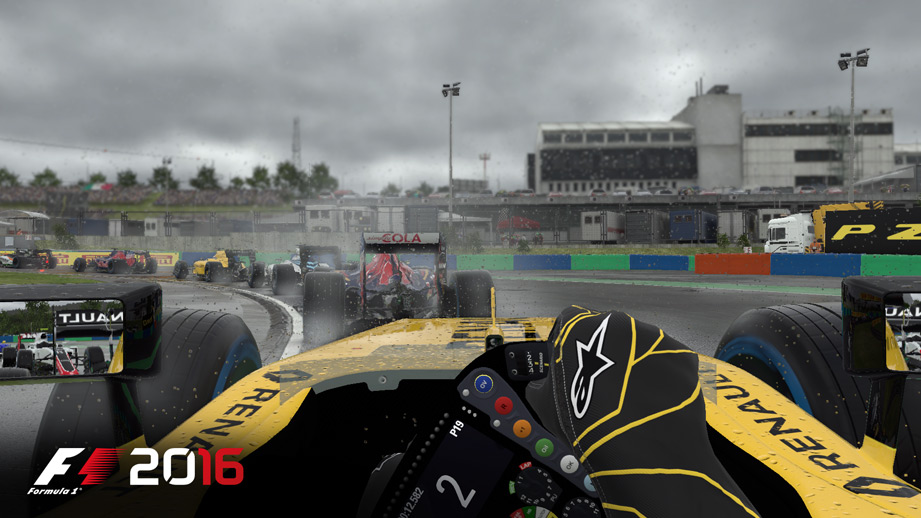 In contrast to the career mode; the pro career mode is much harder as everything is turned up quite drastically to the hardest settings across the board even to the point of shifting gears manually with no braking assist, pit assist, strict corner cutting penalties, simulated vehicle damage, no flashbacks and much more besides. If you thought that appeared to be difficult, then be prepared to face the harshest A.I. driver and driver proficiency levels in addition to full length practice sessions, qualifying and races throughout each season of your entire career, while being locked into the first-person perspective from within the cockpit of the car for the most lifelike F1 experience F1 2016 has to offer.
When you have selected your preferred duration of each session in career mode; you can customise your driver profile with 20 male faces to choose from with varying preset facial features for your driver's avatar; 22 crash helmets which are customisable via a colour palette for the hue, saturation and luminance of the base colour and two sets of detail colours; nationality; as well as a first name, surname and an abbreviated name. A personal driver number must also be chosen which cannot be the number of a driver currently on the grid such as not being able to use Lewis Hamilton's 44 or Fernando Alonso's 14, although in a very noble and sporting gesture by Codemasters, Jules Bianchi's driver number 17 has been retired from the game in loving memory.
Team selection is immediately where the career mode begins to fall short as players can unbelievably choose any team of their liking which is a complete contradiction to the term career mode. Players should begin their career mode by having to earn a race seat at one of the teams towards the back of the grid or earning a race seat at a team via the young driver development programme hosted by such teams as Mercedes, Ferrari, Red Bull, Williams and McLaren Honda. For instance, Pascal Werhlein is part of the Mercedes young driver development programme in which he was a test driver for Mercedes in the 2014 season before becoming a test driver for both Mercedes and Force India in the 2015 season as Mercedes is their long term engine supplier, while the 2016 season seen Pascal Werhlein earn a race seat at Manor who also have their engines supplied by Mercedes; therefore Mercedes essentially acted as an agent to place one of their drivers into a team who they have a close partnership with. The same can be said for Max Verstappen's route into F1 with Red Bull and their sister team Toro Rosso, while McLaren Honda have recruited Stoffel Vandoorne and Williams have brought in Lance Stroll who are all promising drivers with the potential to be future world champions by following in the footsteps of arguably the best ever product of a young driver development programme in the form of Lewis Hamilton's debut season for McLaren in 2007. The point being that you can find an opportunity at the back of the grid and work your way through to the senior team in most cases as has been happening for a few years in F1; therefore it is quite disappointing to be able to immediately start at a team at the front of the F1 grid as it somewhat defeats the purpose of having a career mode in the first place as the entire point should be to earn your way into the sport as a reserve driver or a feeder series such as GP2 followed by moving your way closer to the front of the grid, but rather unfortunately none of that gameplay experience is in F1 2016.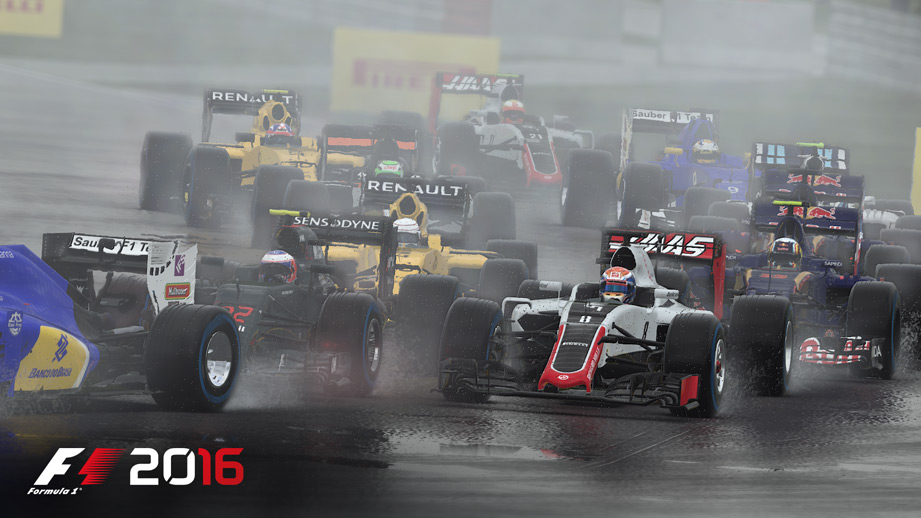 Teams have varying expectations such as Mercedes, Ferrari, Williams and Red Bull will all want you to win the championship within 1 to 2 seasons, while Force India, Toro Rosso, McLaren Honda and Haas all expect to win the championship within 2 to 4 seasons, although Renault, Sauber and Manor will be far more lenient in their expectations as they will allow 4 or more seasons for you to win the championship. Each of the three groups of teams have differing resources resulting in Renault, Sauber and Manor being initially off the pace and having a much lower research and development budget to improve the performance of their cars, while Force India, Toro Rosso, McLaren Honda and Haas all have competitive cars and high research and development costs to help them push onto the next level of performance. However, the top group of cars are focused on immediate results as they already have the best cars on the grid which are capable of winning races or finishing on the podium with extremely high research and development costs to back up their respective performance advantages ahead of the other seven teams. Rather interestingly, if you race for a team towards the back of the grid; you will earn a bonus of an extra 10% on your career score, while the midfield group trying to push on will provide a 5% bonus for your career score, although a drive at the top tier will not provide any bonus for your career score, while you also have the ability to choose who your team-mate will be such as Lewis Hamilton or Rosberg at Mercedes as you joining the team will naturally push one of them out.
Before beginning your first practice session; you will meet with your personal manager who introduces herself and informs you of your contract offer in a meeting located in one of the re-introduced hospitality areas, while your personal manager will negotiate your new contracts and inform you of any updates.
Practice programmes include track acclimatisation which involves positioning at least part of your car within a small gate on the track to effectively learn the track and gain points in the process towards a green target, although you can also attempt to achieve a purple target which actually requires each gate to be approached at the optimal speed. Tyre management allows you to choose a tyre compound and attempt to keep the tyre performance within the purple optimal tyre wear window or the green moderate tyre wear window as the red heavy tyre wear window will prove unsuccessful during the completion of three consecutive laps which have to be individually completed within the target time. Qualifying pace is determined by achieving an objective of setting a time to finish a practice session in a certain position or higher, while team objectives comprise of a variety of tasks such as completing a fast sector, completing an entire lap with minimal fuel usage, performing a DRS test by activating DRS, chaining multiple consecutive corners together during the track acclimatisation practice programme. There are naturally bonuses for session participation in each of the three practice sessions, each lap completed up to 10 laps per practice session, completing team objectives and a disciplinary record depending upon how much you have been penalised or a clean penalty free practice session.
Practice programmes are especially important as they deliver resource points which can be utilised to efficiently allocate funding to an area of the car that requires development. If your team can afford them; they will allocate a certain amount of resource points to start on the development of your car early in the season, while you can also earn resource points for strong performances in qualifying sessions and races. The car upgrades are chosen from the research and development tab on your driver's laptop which includes five areas of the car to upgrade comprising of engine power, fuel efficiency, chassis weight, downforce and drag with each area containing five progressive upgrades in which the first component is available within each area in exchange for a varying amount of resource points, although the other four components must be unlocked by using your resource points to purchase the previous upgrade component.
The laptop also covers a multitude of features beyond research and development including a HUB which includes a news feed of your most recent on track accomplishments, current drivers' and constructors' standings, a trophy room and tutorials providing videos narrated by Anthony Davidson regarding the multi-functional display, safety car and virtual safety car procedures, pit stops, formation lap, tyre management and much more besides.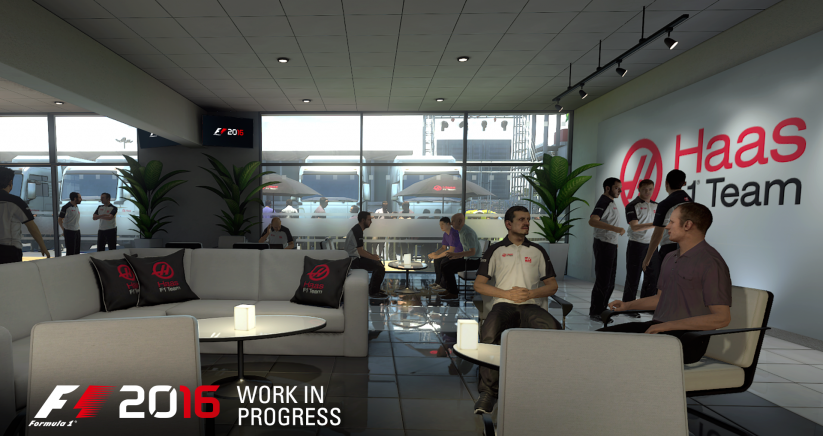 After the three practice sessions leading up to the qualifying before the first race of the season; your personal manager will inform you of your new rival which for the opening season of career mode will be your team-mate at the team you chose to drive for and the team-mate you selected to be retained within the team. This is rather fitting as you start life out in a team as the second driver attempting to gradually become the more dominant driver in the team as you will earn praise for finishing ahead of your team-mate in any session. You can keep track of who is leading the rivalry from after completing the first qualifying of the season onwards with the rivalry intensifying by earning points for finishing ahead of your team-mate in a variety of objectives per session which are represented via a statistical analysis such as if both drivers finished the race, finished on the podium and had a penalty free race as well as comparisons of finishing position, fastest sector times, fastest lap time and more besides.
Everything from the first season carries over to the second season including your research and development progression from the previous season, while there is always the possibility that if you have chosen a team further down the grid to work your way through to a front running team that impressive performances may earn you a contract offer at a team with a faster car and more resources.
Championship Season allows players to participate in a season comprising of all 21 races through a short weekend, full weekend or a custom weekend with the real life driver of your choice in their respective cars and teams such as Lewis Hamilton, Sebastian Vettel, Daniel Ricciardo, Max Verstappen, Jenson Button, Felipe Massa and many more besides. The short weekend for instance comprises of a single 30 minutes practice session, one shot qualifying and a race distance of your choice between 3 laps to 100% length, although the weather is permanently set to dynamic and the session start time is set to the official time.
Quick Race mode provides the opportunity of racing on a single track with the ability to have a single short practice session of 30 minutes to three full practice sessions of 90 minutes, 90 minutes and 60 minutes, one shot qualifying, short qualifying, full qualifying or a full race weekend against a grid containing 21 opponents. You can choose from any of the official drivers, cars and teams, alongside any of the 21 tracks and retaining the freedom to adjust the race length from 3 laps, 5 laps, 25%, 50% to a full length race distance for each circuit and full customisation of race settings, assists and weekend tyre allocation. Quick Race mode doubles up as a customisable championship mode in which any number of 1 to 21 races can be added to the season calendar in any order, although races cannot be repeated within the same championship with an updated world driver's and constructor's championship table following each race.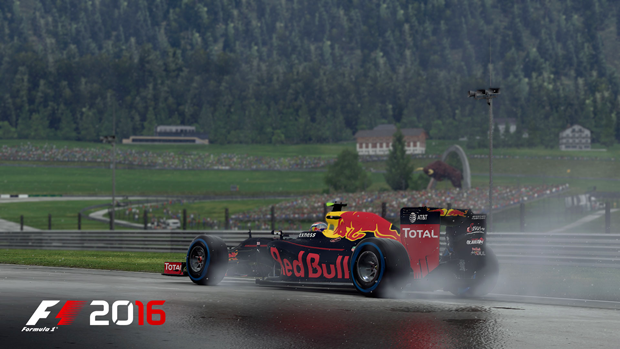 The Time Trial mode provides you with the opportunity to set the best lap time around any of the 21 tracks in an attempt to climb the leaderboards of the fastest times as you compete against players from across the world to see who performs the best lap time in a one lap scenario in dry or wet track conditions. An interesting gameplay mechanic produces a ghost car from your personal best lap time will appear, while notifications inform you of your current position and a rival above your current position has their ghost car appear in your time trial to provide added motivation to push beyond the limitations of your personal best lap time and even experimentation with your rival's racing line. You can complete as many consecutive laps as you wish with a full selection of drivers, cars and teams, while you can also customise your car setup and driving aids to your ideal preferences.
There is a vast amount of assists to make for a customisable experience for players who are newcomers and experts alike including driving proficiency; off, low, medium or high braking assist; anti-lock brakes; off, medium or full traction control; off, corners only or full dynamic racing line in 2D or 3D; manual, manual and suggested gear or automatic gearbox; and an off or on pit assist. There are also a variety of race settings in addition to assists such as the A.I. driver level; flashbacks; parc ferme rules; off, reduced or full vehicle damage; inclusion of the safety car depending on race length; regular or strict corner cutting stringency; formation lap depending on race length; and manual or assisted race starts.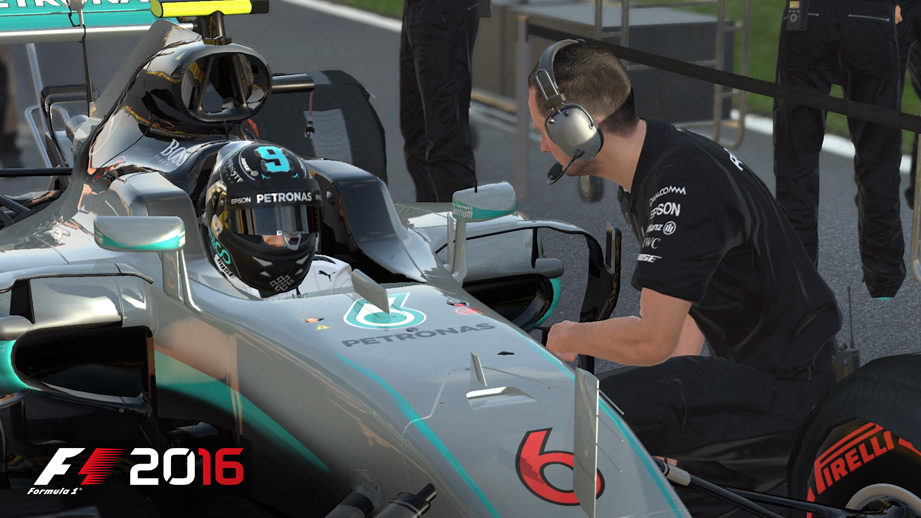 The driver, pit wall and pit crew likenesses are good representations as you can tell who each driver is supposed to be as is the case for the team principals such as Mercedes' Toto Wolff and Red Bull's Christian Horner on the pit wall, although the problem is every driver, pit wall and pit crew character model just lacks the polish of a third-person action adventure game in which the facial expressions and details would have to be on another level of quality. The podium and pit wall animations seem rather similar for the majority of races as though it is not dynamic to a scenario that has occurred during the race; therefore if two team-mates collide and one comes out better than the other, they are still going to spray the champagne and celebrate with smiles on their faces as though nothing ever happened which is unrealistic to the emotions of racing in F1 when such circumstances arise on track.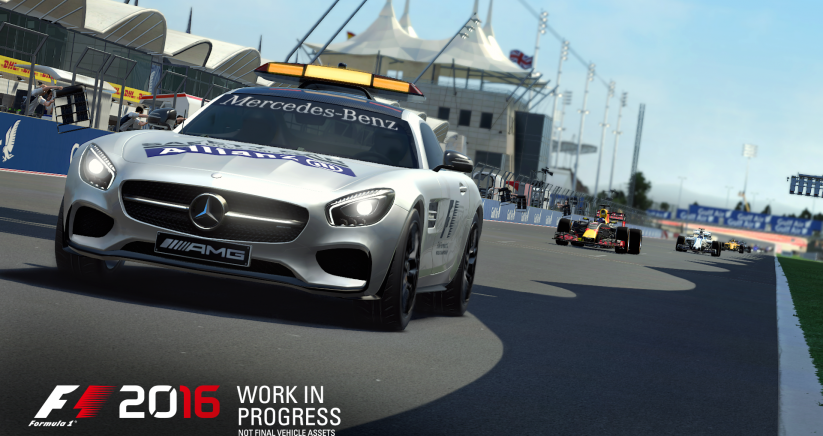 New gameplay mechanics include the long requested formation lap which was last seen in F1 Championship Edition on PS3 were it is more involving as it is a necessity to weave the car to reach the optimum tyre temperatures prior to the start of the race whereas it is not the case with F1 2016. Manual starts are atmospheric as you have to hold your clutch for the appropriate period of time or you will be penalised for a jump start, although if you hold your clutch for too long you will not be up to speed in time to hold position and will inevitably lose positions. The virtual safety car has been introduced for cars to be driven to a delta time specified on the dashboard of the steering wheel when on track incidents occur that are expected to not take as long to clear from the track in comparison to an actual safety car, although it may evolve into a safety car period, while the re-introduction of the safety car provides realism, especially during longer distance races.
A new feature is the ability to alter the time of day with all 21 races having the option of starting any session at the official time, a random time, sunrise, morning, midday, afternoon and sunset, while you can also adjust the time progression speed to 0, 1, 2, 3 or 5. Unfortunately, it feels like an incomplete feature as players have the opportunity to change the three night time races located in Bahrain, Singapore and Abu Dhabi into a daytime race; yet you cannot take any of the 18 daytime races and turn them into a night time race. Not only can you not select a night time race, but starting a 100% race distance during sunset as I did at Spa to test the feature will never result in reaching night time conditions; despite even being set to a 5x speed for the time of day with a noticeable lack of any change in the positioning of the sun and no movement in the positioning of shadows on the track surface which is evident given the amount of trees situated trackside.
However, for all of the new gameplay mechanics the Energy Recovery System (ERS) is nowhere to be seen which is rather odd as it is essentially an updated version of the Kinetic Energy Recovery System (KERS) which featured in previous F1 games by Codemasters. Disappointingly, this removes an element of strategy from the racing as players would have previously looked to deploying ERS at just the appropriate time to push for an overtake such as daring to utilise ERS round the outside of a fast bend or perhaps even the more common overtaking manoeuvre by utilising ERS and DRS simultaneously in harmony with a slipstream throughout the duration of a long straight; therefore the removal of ERS does nothing to improve the excitement of wheel to wheel racing.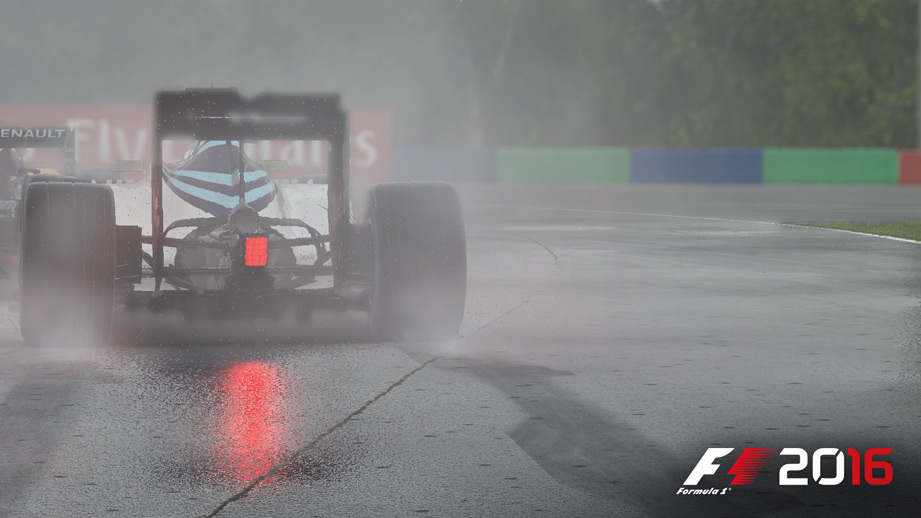 Weather conditions include dynamic weather with such possibilities as a dry practice, wet qualifying and dry conditions descending into full wet conditions come race day or changeable weather conditions to that affect; clear weather with no risk of rain; light cloud with a small chance of rain; overcast with an increased chance of rain; light rain within the race; and heavy rain throughout the race, alongside the ability to customise weather for each individual session. All weather conditions are modelled accurately to present a unique challenge as each type of weather will result in your car behaving differently; especially in wet weather conditions as your car will begin to aquaplane before you reach full throttle on a long straight, therefore requiring a feathering of the throttle to counteract the possibility of the rear of the car stepping out during full wet tyre conditions.
The handling is really on point as tyre compounds will provide differing grip and durability, while the car's engine power is important as it will change how far you can push under braking and how you approach corners from having achieved the engine's top speed. Dry weather in comparison to wet weather conditions is completely different as the track becomes slippery during wet weather conditions with the rear of the car often unexpectedly stepping out which needs to be quickly corrected to avoid the potential of your car aquaplaning. Driving without assists provides a realistic feel of driving a powerful F1 car as you will need to apply the throttle gradually in an almost feathering of the throttle as a full immediate application of the throttle will result in the backend of the car stepping out and potentially sending the car into a spin, while braking too abruptly will lock the tyres resulting in most likely missing the apex of the corner.
The car setup can be changed in the pits which can potentially provide a significant performance advantage if you experiment enough in an attempt to absolutely perfect your car setup for each track. The car setup is spread across five presets including: maximum downforce, increased downforce, balanced or default, increased top speed and maximum top speed. Each of the five presets provide a variety of settings throughout eight categories which may also be customised to your personal preferences, while there are also options to save or load your preferred car setups. Custom car setups include the ability to change the front and rear wing aerodynamics; changing the transmission from the differential adjustment when on and off throttle; calibrating the front and rear camber and the front and rear toe of the suspension geometry; changing the suspension at the front and rear suspension, front and rear anti-roll bars and the front and rear ride heights; adjusting the brakes by increasing or decreasing the amount of brake pressure and front brake bias; changing the front and rear tyre pressures; adding or removing ballast from the weight distribution; and increasing or decreasing the kilograms of your fuel load.
There are five tyre compounds of which three are chosen for each track including ultra soft, super soft, soft, medium and hard tyres for dry conditions dependant upon the track or intermediate and wet tyres for wet conditions with every tyre reacting differently to the track layout and surface resulting in varying lap times and durability; therefore providing a true reflection of tyre strategy from the real world of F1.
There is some really impressive realistic damage modelling including loss of tyres following a heavy impact with the barrier or a collision with another car, the front wing becoming detached which will affect the handling of your car until a pit stop has been made, aerodynamic carbon fibre bodywork flying through the air in a variety of directions after a lesser impact which is not race ending but could affect the behaviour of your car, engine blowouts following a mechanical failure or too much mileage on the same engine and more besides.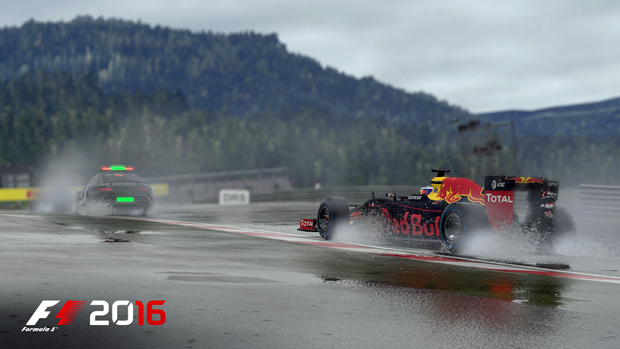 The notoriously harsh penalties from previous F1 games by Codemasters are still rather frustratingly unresolved in single player and online multiplayer with rather mystifyingly no way of turning the penalties off. I received a two second time penalty even though it was Rosberg that predictably smashed into my car as I was racing as Lewis Hamilton; despite Rosberg receiving a three second time penalty for what the race director deemed to be a severe collision with Lewis Hamilton. Warnings are handed out for accidentally leaving the track, despite losing time in the process by having a greater distance to travel in order to re-align the car with the racing line. There never seems to be any dynamics to the situation to provide an ounce of leniency in certain circumstances such as a rival driver aggressively hitting your car as you are approaching a corner resulting in your car being forced off the track only to be warned for exceeding track limits, while the same could be said for full wet track conditions when accidentally aquaplaning into another car or off and back onto the circuit through a corner.
There are 7 superbly positioned camera angles including a third-person camera positioned close to the rear wing of the car and a second third-person camera positioned further back to provide two separate views of the car and the track surface up ahead amongst the surrounding environments. There are three first-person perspectives positioned from the front wing of the car looking directly ahead with no bodywork, a second camera angle positioned in the centre of the front wing surrounded by intricate bodywork and front flaps with the third first-person perspective providing a driver's eye view from within the cockpit as the complex steering wheel can be seen while peering out just above the front wing with an incredibly detailed left and right mirror to view what is happening directly behind your car. Two cameras are mounted onboard above the driver's crash helmet with the first positioned directly behind the crash helmet looking ahead but not providing any view of the cockpit and a camera positioned further to the left of the crash helmet showing the cockpit and steering wheel, but the common thread between both onboard mounted cameras is that they both show the high amounts of G-Force being experienced by the driver. Vast customisable camera options allow players to set specific parameters for the cockpit, TV pod and TV pod offset with a twenty point system for genuine customisation for the field of view and horizontal offset to be zoomed in or out; vertical offset and angle of camera to be increased or lowered in height; near clip plane decides at what distance a nearby object is no longer rendered; the mirror angle to be increased or lowered in height; as well as the amount of camera shake and camera movement. As great as all 7 of the gameplay camera angles are; it would have been amazing for the gameplay and replay camera angles to include a helicopter camera angle from high above the circuit following the action with the sound effect of the helicopter in the mix, while a driver's eye camera from within the crash helmet with limited peripheral vision, breathing and a pulsing heart rate to emphasise the intensity of the sport, alongside camera angles attached to the exterior of the car looking out just above each of the tyres.
You can watch a full race replay with the ability to watch in slow motion, pause, fast forward, rewind, change the camera angles for a different view of the action and to view the action from the previous or next driver. You can view the replay from the 7 gameplay camera angles, while there is an eighth camera angle in the form of a dynamic camera angle positioned away from the car changing from camera to camera in the style of Gran Turismo. The onboard, first-person and third-person cameras can all be rotated with the third-person perspectives both having the capability of rotating 360 degrees in order to view your car in more detail as well as the nearby competitors and the scenery, while the first-person cameras provide detailed views of the bodywork and tires to the left and right and a rear view of the spoiler, more focus on the mirrors and the rear wing, alongside the onboard cameras providing a left and right view of the scenery and a greater focus on the bodywork towards the rear of the car.
It is disappointing not to see a Vita release of F1 2016 after the pretty good F1 2011 retail release on Vita showed true potential for where the series could evolve on Vita, although the consolation is remote play. The performance during remote play is excellent as the graphics, audio and general performance are the same quality as the PS4 version, while the control scheme has only been optimised to naturally re-map the DualShock 4's touch pad to the Vita's touch screen for replays and flashbacks. Otherwise the default control scheme during remote play is not optimised with acceleration moved from R2 to the right of the rear touch pad and braking moving from L2 to the left of the rear touch pad. I had the best remote play experience with F1 2016 after creating a custom control scheme in which acceleration was re-mapped to R1 with braking moving to L1 and switching the camera angle changing of R1 to the right of the rear touch pad and moving the voice control menu from L1 to the left of the rear touch pad; therefore providing a comfortable control scheme much better suited to the racing genre.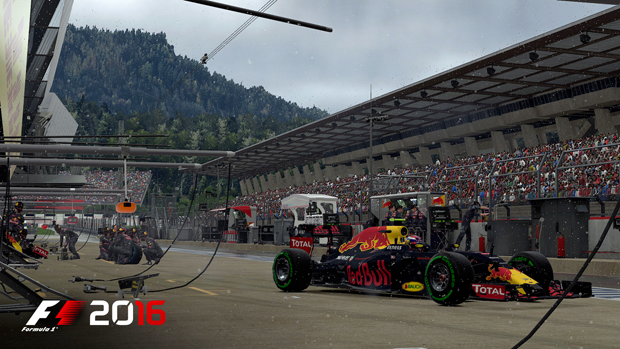 The controls are well mapped to the DualShock 4 controller and are almost fully customisable. The default control scheme consists of pressing R2 to accelerate; pressing L2 to apply the brake or reverse the car; holding X during manual starts; pressing triangle to activate or deactivate DRS; pressing X to manually shift up a gear; pressing square to manually shift down a gear; pressing R1 to change the camera angle; pressing O to produce the multi-functional display; pressing L1 to produce the voice control menu; moving the direction of the left analogue stick to the left or right to steer your car in that direction; moving the direction of the right analogue stick forwards, backwards, left or right to appropriately manoeuvre the camera angle to look in that direction; pressing up, down, left or right on the d-pad to scroll through the MFD menu; pressing R3 to chat in online multiplayer; pressing the share button takes you to the share feature menu; and pressing the options button to display the pause menu.
Despite the customisable control scheme; there is no way of mapping the steering to the gyroscopic motion sensing functionality and the touch pad can only be mapped to once instead of the left and right sides having their own purpose. It is surprising as the gyroscopic motion sensing functionality could have provided an alternative steering method to the left analogue stick, while the touch pad implementation is under utilised as it only enters into a replay followed by pressing square to select the moment of your flashback after a collision or a general loss of track time. This is somewhat disappointing as an optional control scheme from MotoGP 13 on Vita included tapping the appropriate side of the rear touch pad to shift up or down a gear; therefore it is clear that this level of functionality is possible for a controller in a racing game. The light bar provides a multitude of colours depending upon the current scenario such as flashing a light tone of red when waiting for the red lights before the race commences, green under normal racing conditions, yellow within an area of the track that has yellow waved flags following an incident, blue during the presence of blue flags, red for collisions and much more besides. There is lots of vibration when applying the throttle during high acceleration, shifting through the gears, braking from high speeds and collisions which certainly increase the immersion.
A range of steering wheels designed specifically for racing games on PS4 are supported including the Hori Racing Wheel, Logitech G29 Racing Wheel, Thrustmaster T80, Thrustmaster T100, Thrustmaster T150, Thrustmaster T300 – F1 Rim, Thrustmaster T300 – Ferrari GTE Rim, Thrustmaster T300 – PS Rim, Thrustmaster T300 – TM Leather 28 GT, Thrustmaster T500 – F1 Rim, Thrustmaster T500 – Ferrari GTE Rim, Thrustmaster T500 – GT Rim and Thrustmaster T500 – TM Leather 28 GT. Despite being much requested no Fanatec steering wheels are compatible with the PS4 but this is a licensing issue from Sony which will hopefully one day be resolved.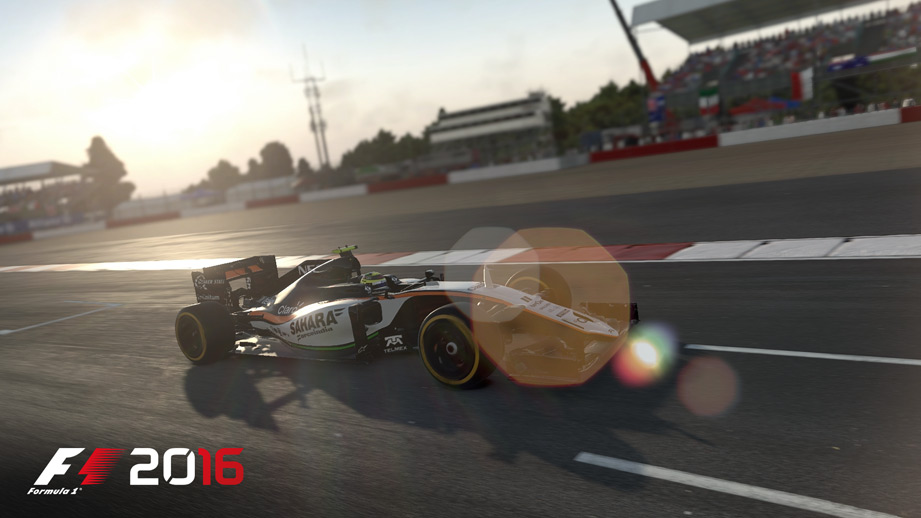 F1 2016 possesses a smooth performance which usually maintains a consistent 55 to 60 frames per second in 1080p, therefore providing a genuine sense of speed. Comparing F1 2016 on PS4 to a few seasons ago in F1 2012 on PS3; you can clearly see a noticeable visual and performance difference with an increased sense of speed, sharper looking cars, much better and more consistent shadows and lighting in which only a small number of trees will have their shadow cast onto the track in F1 2012 in contrast to pretty much all of the trees and buildings in F1 2016, while the track surface and trackside details have more detail particularly in people standing trackside and a better representation of grandstands. F1 2016 has a variety of nice graphical touches including heat haze from the rear of your car and opposing cars to realistically create the sensation of heat radiating from a car running at high temperatures, while lighting, shadows and textures all look as good as ever. The use of lens flare when the camera angle you have chosen is pointing towards the sun is appropriately balanced as it moves across the screen based upon the positioning of the sun and also disappears when the sun is obscured by trees, grandstands or buildings. Rain effects recreate the intensity of the rain as rain droplets run down the camera, while grass flicks up onto the camera when going off-track and tyre smoke is produced when locking tyres with every detail adding to the genuine accuracy of track representations in comparison to the actual tracks.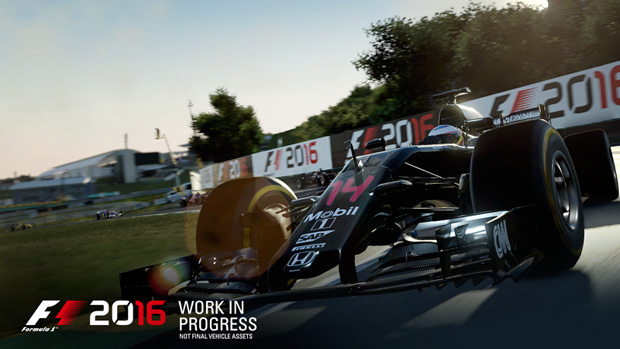 F1 2016 certainly boasts slick and polished presentation that is very appropriate to the subject matter and nature of the game which is realised by a multitude of real-life photographs of drivers from around F1's paddock layered around centrally positioned menus. The presentation of the game is solid with a great user interface across various menus such as the main menu, career mode menus, championship season menus, quick race menus, online multiplayer menus, time trial menus, online leaderboards, options menus and various gameplay menus with support for navigation via the left analogue stick, directional pad and face buttons, although it does not include support for navigation via the right analogue stick or touch pad. Everything has an air of TV style presentation with pre-race build up that provides an overview of the track layout accompanied by a full grid line-up which carries through to the gameplay with data overlays of the gaps between two drivers; fastest lap; track and tyre temperatures; formation lap, alongside post-race coverage for the latest championship standings presented exactly as you would expect to see it when watching professional television coverage.
Voice-overs include your personal manager informing you of your latest contract offer and your preparations for the next race, while your race engineer provides advice on where you can increase the pace on track, events taking place up and down the field, strategy and much more besides, alongside pre-session and post-session commentary from David Croft and Anthony Davidson. David Croft provides enthusiastic pre-session introductions about the history of the specific track and even the full grid order in pre-race commentary with Anthony Davidson responding with technical knowledge of the track, while they return post-session to provide classification of positions and analyse what has occurred. David Croft and Anthony Davidson do well with their lines of dialogue to build the anticipation ahead of a session and analyse through post-session segments, although the code responsible for selecting certain lines of dialogue in accordance with what events have taken place during the race is capable of repeating some of the post-race commentary from race to race far too often. This occurs particularly when driving as one of the front runners with Anthony Davidson's commentary referring to how all of the conditions and car setup combined together to assist the race winner in their victory, while the same can be said for the driver of the day who tends not to have improved their position by that much of a margin from their grid placing and also not having performed a spectacular overtake to be worthy of the honour in the respective race. However, there is still no mid-race commentary which means there has in fact been no mid-session commentary in an F1 game since Martin Brundle and James Allen's commentary in F1 Championship Edition on PS3 in early 2007.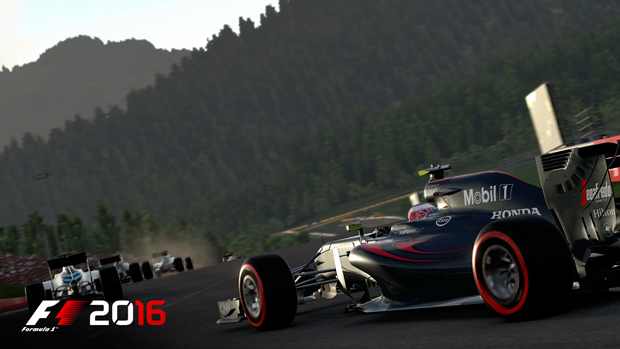 Sound effects include the roar of the engines which sound better than before and are closer to their real-life counterparts with subtle differences in the engine notes between each of the cars depending upon their respective power and engine supplier. The ambience really elevates the atmosphere as the crowd cheer with anticipation prior to the start of the race and celebrate during the podium, although the crowd could do with an increase in volume as they can be a little quiet during the races. A nice touch is their ability to raise the volume for a home driver's success during the race such as Lewis Hamilton performing overtakes and driving past grandstands at Silverstone, while you can hear the engines of the cars positioned around you on track as everything is appropriately balanced in the audio mix. Music mostly consists of the usual mixture of classically performed dramatic instrumentals fused together with some catchy rhythms.
The DualShock 4 speaker is utilised rather efficiently as it adds to the realism by producing a further layer of audio projected from a different direction to re-create the atmosphere you would anticipate an F1 driver to experience when in the cockpit surrounded by F1 cars when on track. The DualShock 4 speaker produces the voice of your race engineer who provides updates periodically throughout the race which links into the voice control menu to create one of the absolute best and most clever implementations of the DualShock 4 speaker to date.
The trophy list includes 50 trophies with 37 bronze trophies, 10 silver trophies, 2 gold trophies and 1 platinum trophy. Easier trophies include the Time To Trial bronze trophy for setting a clean lap in any Time Trial; the Second Chance bronze trophy for using a flashback; and the A Truly Global Sport bronze trophy for completing 10 laps at the new Baku circuit. There are four online multiplayer trophies including three just for competing with the Taking It Online and the Competitive Streak bronze trophies for completing one and five races in online multiplayer respectively; the Saved Online Championship bronze trophy for saving an online championship; and the Winning Streak silver trophy for winning a total of five online races. Harder trophies include the Top That silver trophy for setting the fastest lap time in all three practice sessions, qualifying in pole position and winning the Grand Prix and the So You Think You're Fast silver trophy for winning a 25% + distance race against Ultimate A.I. opponents. It is estimated that depending upon skill and a good trophy guide to provide some helpful tips that it would take between 15 to 20 hours to platinum the trophy list.
There are two sets of difficulty levels with one set appropriately assisting your driving proficiency and the other allowing you to set how hard the A.I. controlled drivers are to race against. Driving proficiency difficulty levels include beginner, amateur, experienced, professional and elite with each level containing their own respective race assists such as beginner affording every available assist, while amateur dials down the braking assist to medium and experienced turns it off completely in addition to only providing a medium quantity of traction control, corners only for the dynamic racing line and only having a manual gear shift with a suggested gear. Meanwhile, professional switches every assist off other than the medium traction control, although elite goes as far to even take that luxury away for absolutely no assists, while there is also a custom driving proficiency level in which players can fine tune their experience. The A.I. driver level includes very easy, easy, medium, hard, expert, legend and ultimate with the major difference being the aggressiveness of the A.I. in which the A.I. controlled cars will look to overtake you at almost every straight and corner resulting in you having to be more defensive through the corners in order to avoid being overtaken at every opportunity the A.I. drivers professionally engineer from getting a great exit out of a corner to engage the throttle a little earlier and taking full advantage of the slipstream or alternatively diving up the inside of a corner or perhaps even trying to surprise you around the outside of a corner or fast bend.
The performance during online multiplayer is exceptional as it is as fluent and provides the same sense of speed and graphical fidelity as the single player game modes, just as much customisation, up to 22 players racing and the ability to include A.I. of any difficulty level to flesh out the grid. The online multiplayer experience is mostly user friendly as there is a spectator option for players joining a lobby after a race has already started, while a further nice touch is a host automatically migrates even during a race when the host player leaves the online lobby. The only negative with the online multiplayer experience is that players are unable to start an online race against only A.I. controlled opponents when there are no players to join your lobby which leads to a potential unnecessary wait when it would have been far more convenient for a host to start against A.I. opponents and for players to be able to drop into a race in place of A.I. after a race had begun.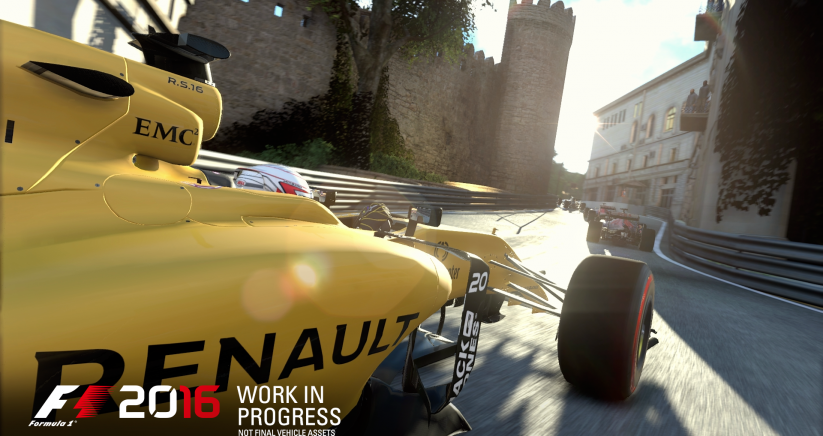 Custom race includes a session list for players to view a listing of available lobbies to join or creating a lobby with a clear listing of who is hosting the online lobby, their connection strength, current track, session type, current progression of the session, the amount of players who have joined the lobby out of the maximum amount of players allowed to join the lobby, lobby type and the finer details for the currently selected session such as duration, condition and assists. Create custom allows players to create their own lobby which can be open for anyone to join, players from your friends list or by invitation only, while providing a full quota of session options, race settings and assist restrictions that everyone joining your lobby will have to race within those limitations and rules. Multiplayer championship offers players the chance to create their own customisable championship with as many or as few of the 21 races as you prefer and any variation of practice and qualifying as well as further customisation such as naming the championship.
Matchmaking has three modes of varying gameplay including rookie mode which provides the opportunity to participate in a 3 lap race with no qualifying, damage is off, clear weather and collisions are off, while sprint mode increases the race distance to 5 laps and collisions are now possible, alongside endurance mode which increases the race distance further to 25% with one-shot qualifying, damage is still off, dynamic weather and collisions remain on.
Rather disappointingly there is a lack of split-screen multiplayer despite it being a highly requested feature by fans of the Codemasters F1 series and F1 in general who took to social media to ask for its inclusion in not only F1 2016, but also F1 2015. F1 has been split-screen multiplayer on PlayStation consoles since F1 '97 on PS1 and especially given the fact that the final F1 game on PS1 being F1 2001 quite sensationally featured two player split-screen multiplayer for a full grid of cars in a championship mode with in-race commentary from Murray Walker and Martin Brundle just goes to show how possible and fully featured a split-screen component can be in an F1 game. Technology is scaleable as each generation of console gaming produces hardware to allow developers to push the boundaries that much further in both graphical and processing capabilities; therefore a console three generations after the final F1 game on PS1 should be able to deliver 1080p and 60 frames per second in split-screen multiplayer. If anything, split-screen multiplayer should be pushed further with four player offline split-screen in a full or customised championship season and the ability to have an incredibly social experience by hosting three friends locally and a further 18 players online or joining another player's lobby for four player split-screen online multiplayer; fans of split-screen racing can only hope this will be addressed in the next F1 game.
The online leaderboards focuses on the fastest times from each player with rankings covering all 21 tracks in dry or wet weather conditions with each leaderboard containing each player's rank; name (PSN ID); the best time set by each player; the date the lap time was set; the team; whether or not a player was racing with a custom setup; and the assists used by each player, while you can compare your positioning on the leaderboards with players that occupy the top positions, players from your friends list, globally with players from around the world and to immediately find and display your position within any given leaderboard.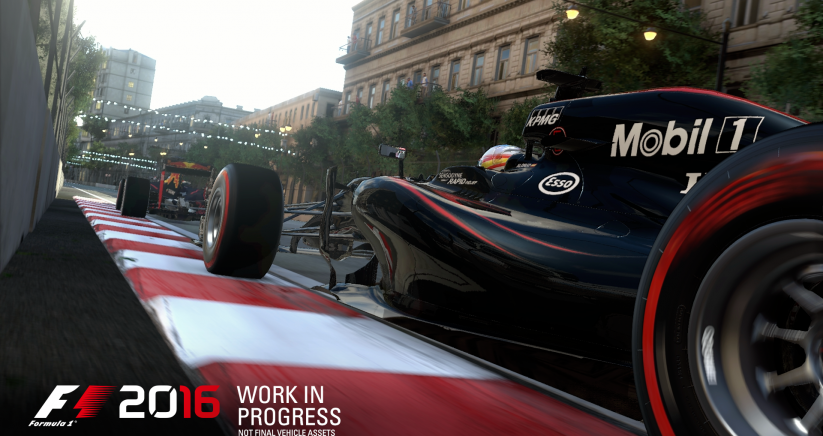 The replayability stems from a variety of areas including the re-introduction of the career mode as well as the pro career mode which both have a duration of ten seasons in addition to the return of Championship Season, Quick Race and Time Trial modes in single player accompanied by fully customisable online multiplayer for between 2 to 22 players throughout all 21 tracks of the 2016 season and further customisation coming in the form of the time of day editor with driver proficiency and driver A.I. difficulty levels will collectively have F1 fans and players coming back for more for quite some time.
There are a variety of improvements required before any F1 game could be considered as being the ultimate package of a definitive F1 experience. Starting from the 2009 season would be progression, but in order to make the truly most historic F1 game to date; classic seasons beginning in the first-ever F1 season in 1950 and continuing through the decades and eras of F1 including new tracks, track variations, legendary drivers, cars, teams, engines, aerodynamics and much more besides would not only be amazing, but unprecedented. When you consider that there are many seasons in which a track has been a staple inclusion of the championship such as the 1950 season which only had seven circuits including Silverstone, Spa and the classic Monza banking which were recurring tracks on the F1 calendar. Classic seasons could also bring about an additional classic time trial mode in which you are not competing with players globally, but instead to drive the same cars as legendary F1 drivers such as Juan Manuel Fangio, Jack Brabham, Graham Hill, Bruce McLaren, Jackie Stewart, Sterling Moss, Emerson Fittipaldi, James Hunt, Niki Lauda, Nigel Mansell, Alain Prost, Ayrton Senna and many more besides in an attempt to break their actual real-life lap records.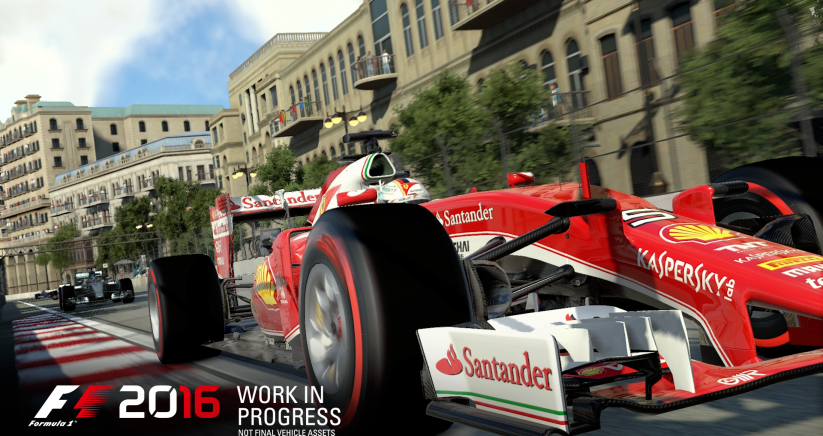 A track editor that allow players to utilise features from each track and customise their length, width, track undulations, surface, grip and trackside details for a track without any limitations with the help of a track designer such as the track designer of the Bahrain International Circuit, Marina Bay Street Circuit in Singapore, Yas Marina in Abu Dhabi, Circuit of the Americas in Texas and the Baku City Circuit in Azerbaijan; Herman Tilke identifying why specific track components are iconic and how to make an iconic track for any era of F1 car in reflection of classic seasons. Reversing, mirroring and reverse mirroring tracks to provide three new sets of tracks for use in every mode outside of career mode which would finally answer the questions F1 fanatics have wondered about for quite some time such as how to approach Spa in reverse.
Mid-session commentary needs to be finally re-introduced as it was last in an F1 game for the PS3 exclusive F1 Championship Edition in early 2007, although F1 commentary made its debut on PlayStation platforms in F1 all the way back on PS1 in 1996. It would be even better to be able to choose the commentary team you want to hear such as Channel 4's David Coulthard and Ben Edwards, Sky Sports F1's Martin Brundle and David Croft or even classic commentary from Murray Walker.
Manager mode in which you must find sponsorship for your team to utilise the income to fund car development; promoting the team; maintaining team morale as high as possible; assessing the drivers you currently have; and offering contracts to reliable pit crew, technical advisors, engineers, aerodynamic designers, the best drivers and much more besides. Manager mode would be the manager equivalent of the career mode in telling a rags to riches story of starting out in a new factory and being towards the back of the grid to the glitz and glamour of winning at Monaco and the possibility of achieving the dream of winning the drivers' and constructors' titles.
Split-screen 4 player offline multiplayer with the ability to have 4 player split-screen online multiplayer in a lobby you host or join with up to a further 18 players. The time of day editor needs to be improved by adding a sunset evolving into night time and an immediate night time option for every track. Some new inventive camera angles such as a helicopter viewpoint, a true driver's eye perspective with limited peripheral vision which highlights the nerves of the driver from breathing to a higher heart rate in circumstances of being close to winning your first-ever race in career mode or following a collision and a camera attached to the bodywork overlooking each tyre. PlayStation VR compatibility would provide even more immersion for each first-person perspective, while from a technical standpoint 4K would make F1 look truly stunning, alongside high dynamic range would be incredible by providing further detail such as the track surface and skies; yet both would be as realistic as ever before following the announcement of PS4 Pro.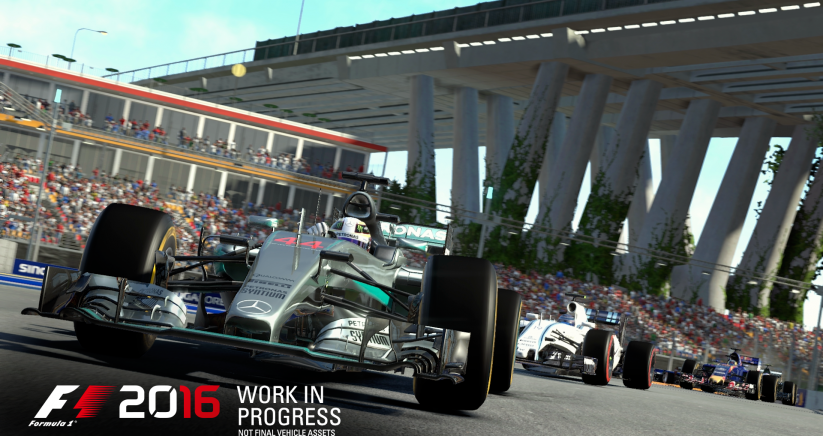 Overall, F1 2016 is recommended to fans of F1, motorsports in general, F1 gaming, driving and competitive racing games as it is a clear improvement over F1 2015 with the re-introduction of key features such as career mode and an overlay of new features which serve the purpose of improving the quality and quantity of the single player and online multiplayer experiences, although it is still yet to evolve into the ultimate F1 package.
A copy of this game was provided by the publisher for review purposes. For more info on our review policy click here.
Score:
What I Like:
Re-introduction of career mode with a duration of ten seasons
Exceptional sense of speed
Atmospheric pre-race build-up
Excellent and reliable online multiplayer for up to 22 players
Customisable championship season in both single player and online multiplayer
Excellent graphical touches such as much improved shadows, lighting, textures and track surface as well as heat haze and a balanced use of lens flare
5 driver proficiency and 7 A.I. driver levels, race settings and driving assists to customise everything to your preferences
Best and most atmospheric implementation of the DualShock 4 speaker
What I Dislike:
No split-screen multiplayer
No classic content
No mid-session commentary
Time of day editor is an incomplete feature as 18 daytime races cannot evolve from sunset to night time and there is no immediate night time option
No massive evolution in F1 gaming
---