PSNStores Recommends PlayStation Mobile Games.
Posted by Curtis H on July 13th, 2015 | 2 Comments | Tags: PlayStation Mobile
This Wednesday is the final day that we'll be able to purchase games from the PlayStation Mobile store. PSM didn't have the most glamorous life, but that doesn't mean there's not plenty of great games that are worth checking out. In the past we did a Top 25 PSM Games list, but we also wanted to go ahead put a general list of recommendations together. To help narrow things down we tried not to include games that have updated versions running on PS4/Vita. So Aqua Kitty, Rock Boshers, Surge, etc., while great, are omitted from this list. It was also important to include many games that are ONLY available on PSM as those are the games that'll vanish with the platform's closure. (That said things like Super Crate Box and Rymdkapsel remain due to how well they specifically play on the Vita.)
This list is what came to mind as the games that we'd want to have around even after PSM is gone. I'd also recommend checking out our list of Top 25 PSM Games from late 2013. There's some overlap between that list and this one, but hopefully they'll give you a good idea of what games you might want to check out before this Wednesday.
Tokyo Jungle
I never actually played the full-fledged PSN version of Tokyo Jungle, probably because I was so satisfied by its miniature version. TJM is a tactical survival game with varying environments and unlockable animals. I have fond memories of the game to this day. – Eric
Passing Time
After playing Frobisher Says, I was sold on pretty much anything Richard Hogg and Honeyslug could possibly come up with. I wasn't disappointed with Passing Time. The game plays wonderfully quickly and makes simple, effective use of the Vita's touchscreen. This is the epitome of a pick up and play Vita title. Much fun. – Eric
Bullion Blitz
I played a ton of this game early on in PSM's lifespan. Hidden beneath the basics of Bullion Blitz is a strategic square-making puzzle game. You can dump a ton of time into the basic survival mode or purchase the challenge offerings. My fiancé started this up just the other day. If you're into color-centric puzzlers, BB will satiate your palate nicely. – Eric
Fuel Tiracas
This was the first game I bought and played on PlayStation Mobile. It bolstered my excitement over the platform due to the fact that it was a) inexpensive and b) wildly entertaining. The Vita's screen is wide enough to comfortably fit this frantic tapfest, and the predetermined sequences allow for addictive memorization. Typical Futurlab. – Eric
UFO Dad
I probably played this game more than most people. During a trip to Newport, Rhode Island (which is beautiful, btw, you should go if you can), I racked up an impossibly high score partially due to a potential bug. But anyway, UFO Dad is an action packed puzzle game that requires the player to match like-colored burgers by flipping them in the air or swatting them across the screen. It's a game I wish went the way of Surge by getting a Deluxe remastered edition or something. It's actually one of my favorite puzzle games. – Eric
Super Crate Box
I actually reviewed this game when it released for PSM. The biggest criticism I had was that I wanted more levels. It's an arcadey score attack game with a brilliant mechanic – every box you collect (the point of the game) changes your weapon to another random one you have unlocked. You'll develop favorites but have to ditch them for the sake of getting a higher score. It's a great risk/reward system that fits perfectly on the Vita. – Eric
Gun Commando
PSM's first (and only?) first-person-shooter, Gun Commando brought weapon level-up mechanics to a Doom-like game. Chain kills with a given weapon to level it up. It's simple but its unique nature makes it stand out on the platform. Also, the art aesthetic and boss fights are pretty rad. – Eric
Rymdkapsel
In Rymdkapsel you manage a space station as you must balance expanding your base and forming a solid defense. It's a simple strategy game that's especially great if you need to kill about forty minutes. – Curtis
Console Saga
This game won our Best PlayStation Mobile game in 2014. "Console Saga built off of a solid swinging mechanic, custom level generator, and some challenging platforming to make for some of the most fun we've had with PSM all year." – Curtis
Haunt the House
I loved that Haunt the House turned the tables on the horror genre. In this instance the player gets to be the ghost and haunt unsuspecting guests of various locations. It's fun to experiment with different inanimate objects to see what scares people the most. – Curtis
Chromatic Aberration
A mix of complimentary colors, puzzle solving, and platforming made Chromatic Aberration a good deal of fun. It's a simple game, but one that gets a lot of mileage out of a pretty cool mechanic. – Curtis
Penguin Party
As a free download you don't have much to lose by at least giving Penguin Party a shot. In it you slide penguins along the ice, guided by arrows, as you try to move each penguin towards the goal. The game has plenty of stages with even more in a Circus themed level pack. – Curtis
Monster Hotel
After Penguin Party XMPT Games also put out Monster Hotel. In it you'll have to run a hotel that hosts vampires, sharks, werebeavers, and many other strange creatures of the night while keeping everyone happy. – Curtis
Picbox
Picbox brought my favorite kind of puzzle game to PlayStation Mobile. If you're like me you can't get enough Picross/Griddlers/Nonograms/etc. and in that case Picbox should be a no-brainer. – Curtis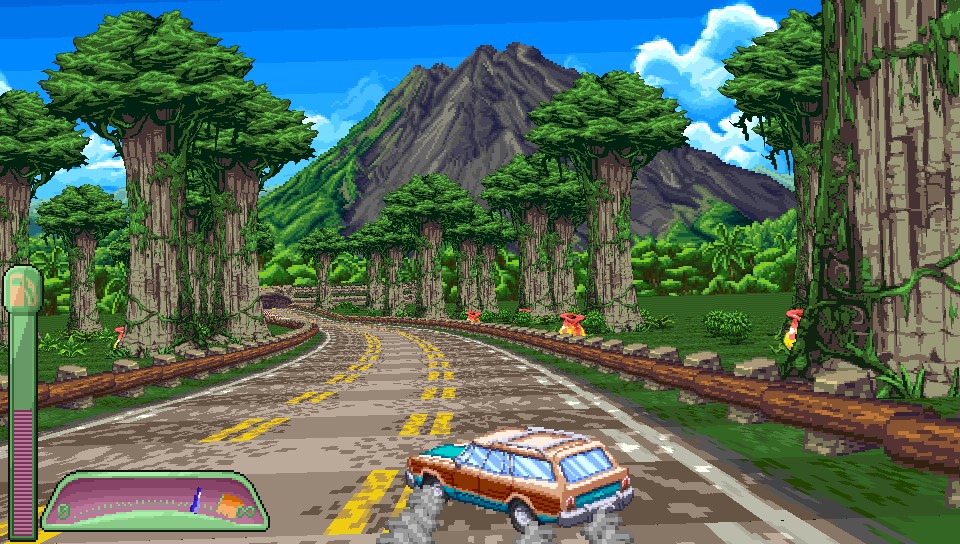 Oh, Deer! Alpha
Oh, Deer! Alpha is one of the last major releases for PlayStation Mobile. The core gameplay is solid and I hope Necrosoft gets the chance to finish development on Oh, Deer! in the future. I'd also recommend checking out a Dev Chat interview that'll go up on the site later today with one of the game's developers. – Curtis
What are we missing? What are your favorite PSM games? Let us know in the comments below!
The final chance to make purchases from the PlayStation Mobile store is July 15th. After that you'll be able to download previously purchased items until September 10th. Before then you'll need to verify your PSM licenses which this post details here. (Warning: There seems to be a possible issue in relation to switching memory cards on the Vita/rebuilding the database which may reset these licenses in the future as pointed out in this comment thread and mentioned here.)
---