Developer Q&A: Lucid Games on Jacob Jones and the Bigfoot Mystery
Posted by Nick K on May 30th, 2013 | 12 Comments | Tags: Jacob Jones and the Bigfoot Mystery
A couple weeks ago, the Vita was graced with a surprisingly charming, and affordable, adventure puzzle game called Jacob Jones and the Bigfoot Mystery. It scored well here on PSNStores when reviewed and so we decided to ask Nick Davies, co-founder of Lucid Games, a few questions – while pulling no punches – about the studio and their latest Vita game.
Q. How did Lucid Games come to exist?
Well we formed back in Feb 2012, all of the founding members previously worked at Bizarre Creations who were closed down by Activision. We all had ties to Liverpool, and were good friends and it seemed like the only time we'd ever get a chance to form our own studio. So we took the plunge, pitched several ideas to publishers, were lucky enough to get one signed and that let us also move forward on our own IP such as Jacob Jones. So really it was a case of taking a chance out of a negative experience.
Q. What have your experiences been like working on Vita, and has development on the platform become any easier with Jacob Jones after having made Travel Bug for the EU territories?
VITA development has been pretty straightforward, we worked with Sony Liverpool so we've been able to get great support, but aside from getting your head around the functions and features specific to the VITA it's not been too much of a problem. Travel Bug was developed pretty much alongside Jacob Jones so it made things easier just in terms of knowing the terminology, and sidestepping any common issues that came up on one project or the other.
Q. Jacob Jones and the Bigfoot Mystery is quite a playful experience on Vita in my opinion. PSNStores scored it with 4 out of 5 stars on our 10-scale. It's a nice break from all the fighting and blood-soaked games I, and others I'm sure, typically play. Where did the idea for the game originate and how did you come to make it episodic?
We spoke to Sony and they said there was a gap for a puzzle type game that made use of the touchscreen, so we took that idea away and our Art Director then worked on several concepts of how the world could look, he pretty quickly came up with the characters and world, mainly as he's a big fan of the vinyl toys and papercraft world.

If you saw the original image you'd see how close to the final game it was, so we were all bought in as soon as we saw it, and that's a great way to make a game, with everyone clear on what the final game will look and feel like. You'd be surprised of how many games don't actually establish a final art style until well into development.

Making it episodic allowed us to make a really high quality world, but stagger the development a little and reduce the initial costs, which also allows us to bring it in at a nice low price. It's important to get a new IP in as many hands as possible and we saw this as a great way of doing it. It also lets us look at the analytics and feedback and then act upon that to improve the future episodes.
Q. It's on iOS as well as Vita. Are there any significant differences between the two versions of the game? If not, can we expect any in future episodes?
No they're pretty much identical, resource wise I don't think we'd be able to make any big changes between the two versions as it just increases the development and testing time.
Q. How has it been working with Sony and how did PS Plus get such a low introductory price for Jacob Jones?
It's always good working with Sony, they're local to us so that helps just in terms of communication and updates and knowing the guys there a little. I think it's fair play to Sony for coming in at such a low price, we told them what we wanted to do on the iOS version and they decided they would match the price on Vita, and that's proved to be a really popular decision.
Q. Jacob Jones and the Bigfoot Mystery doesn't really have spoiler moments. Everyone should know by now that the game is about a boy named Jacob Jones and Bigfoot, and there is a mystery in there somewhere. Can you tell us a bit about the direction the story is headed without giving too much away?
There is a mystery set to unravel, mainly about Biggie's family and what's going on behind the scenes at Camp Eagle Feather. Episode 1 is just a taster of the characters and an introduction to the world, I think you'll see things get a little spookier as we move onto Episode 2, and the story will start to get a little deeper. It all builds up to a pretty grand ending, with a lot of surprises along the way.
Q. Can you tell us about how you guys chose the actors and the voices they use for the characters in Jacob Jones and the Bigfoot Mysteries? How does having Death Kill sound so annoying or Billy Jackson sound so, for lack of a better word, dumb support the story? After all, they are both fairly meaningless characters in the first chapter.
We worked with a great musician and VO producer called Chris Mann who sourced all of the actors based on their bio's and their visuals. They're all professional VO actors with a large repertoire of voices so we were able to sit down with them, talk about the characters and try out a range of styles.

I wouldn't say the characters are meaningless, they don't have the biggest parts in the first episode but they help to offset Jacobs character and establish who he is, and they also feature a little more prominently later on. Making them all sound generic would have made for a bland experience, so they might have annoyed you a little but at least you remember them!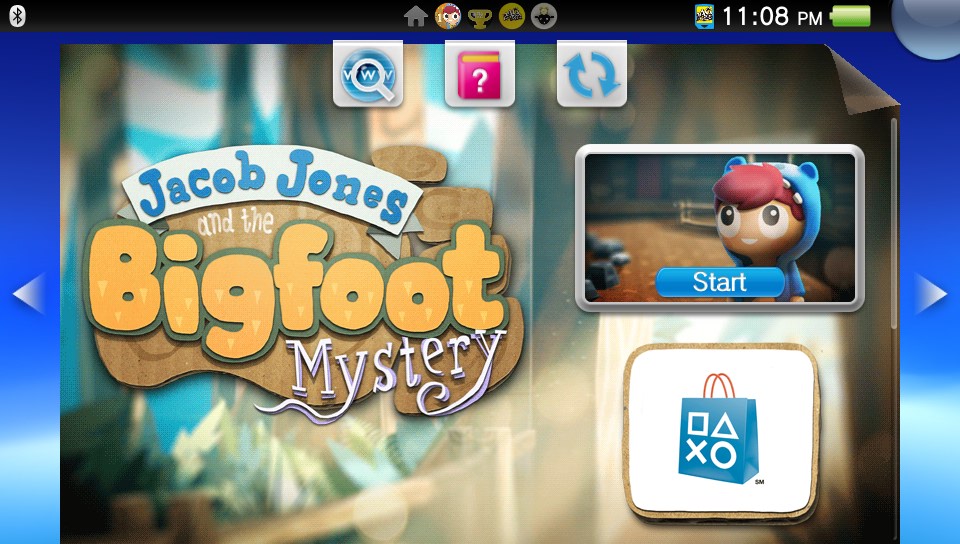 Click to view full gallery...
Warning: Playthrough Preview may contain spoilers.
Q. What was the process for coming up with the puzzles that JJ is faced with while being introduced to the many characters at Camp Eagle Feather?
We worked with about 4 professional puzzle writers, and we mostly picked points in the script where pacing wise, and in terms of moving the plot forward, we thought would be ideal to layer in a puzzle. We then give the puzzle consultants an overview of the story and location at that point and they trawl through their years of experience and suggest puzzles that would fit the scenario. We ended up with probably 3 times the amount of puzzles we actually needed for episode 1.

In some circumstances we saw or discussed some puzzles that we just loved and then tried to layer that scenario into the story so we approached it from a lot of angles, the important thing was we wanted them to be relevant to the story and not just thrown in without context.
Q. Speaking of puzzles, "A Note of Friendship" is not replayable and appears greyed out from the Pause menu, and there is a trophy linked to it as there are for several other puzzles that are replayable. Was this intentional, something that might get patched, or is there a secret to making it replayable?
This is just simply a technical reason, all of the other puzzles are 2D illustrations that we can load in for the player to retry at any point, A Note of Friendship is tied to a particular location in the game that we technically couldn't just jump too. We've patched the iOS version to remove this from the menu just to clear things up, but to be honest it's easier to patch the iOS version compared to the VITA so we may note end up fixing it on Vita.
Q. Why does Jacob Jones and the Bigfoot Mystery have an optional EULA on the Main Menu?
It's just a Sony legal thing, any games with an online interaction (in this case the Twitter and Facebook posting) needs to have this agreement before you can access those features. It's a bit annoying to read through but you only need to do it once.
Q. Is Lucid working on any other projects while making the remaining episodes for Jacob Jones?
We are, we've got another big project we're announcing pretty soon but not something we can talk about right now, and we're always working on a range of ideas and concepts, most of which never see the light of day, but the occasional one might make it into the market place.
I'd like to take this opportunity to thank Nick Davies and the Lucid Games team for answering our questions. Jacob Jones was a gentle surprise to me and I enjoyed it enough to go back and play it a second time to sweep up trophies. I have high hopes for this series, the first episodic adventure on Vita. Now we must wait patiently for episode 2 to arrive.
You can follow @LucidGamesLtd on Twitter or through their Facebook page, as well us @PSNStores for more information about Jacob Jones and the Bigfoot Mystery as it arises.
---