Developer Interview: Wakeboarding HD
Posted by Chris K on March 15th, 2010 | 2 Comments | Tags: Interview , TikGames/Creat Studios , Wakeboarding HD
I had the honor of asking Scott Hyman, Director of Business Development for Creat Studios, some questions about TikGames/Creat Studios newest PSN title: Wakeboarding HD. Although officially announced today, this isn't the first time the internet has seen Wakeboarding HD. A trailer for the game was leaked in early February and before that it was posted on the ESRB website. Well the time has come and we can finally reveal some details.
PSNStores: Please introduce yourself and give a brief description of Wakeboarding HD.
Scott Hyman: My name is Scott Hyman. I am Director of Business Development for Creat Studios. Wakeboarding HD is the newest PSN release for TikGames/Creat Studios. The game drops players into a high-speed, water-filled, arcade experience to maneuver through tracks, perform high-flying tricks, collect bonuses and avoid dangers from exploding mines to bloodthirsty sharks.
PSNS: Wakeboarding seems to be a very niche market especially on consoles. What made you want to make this type of game?
SH: We set out to make a 90's style action arcade game. This is no Wakeboarding sim. Wakeboarding was a means to develop a fast-paced, fun, water-based game that everyone can pick up and play.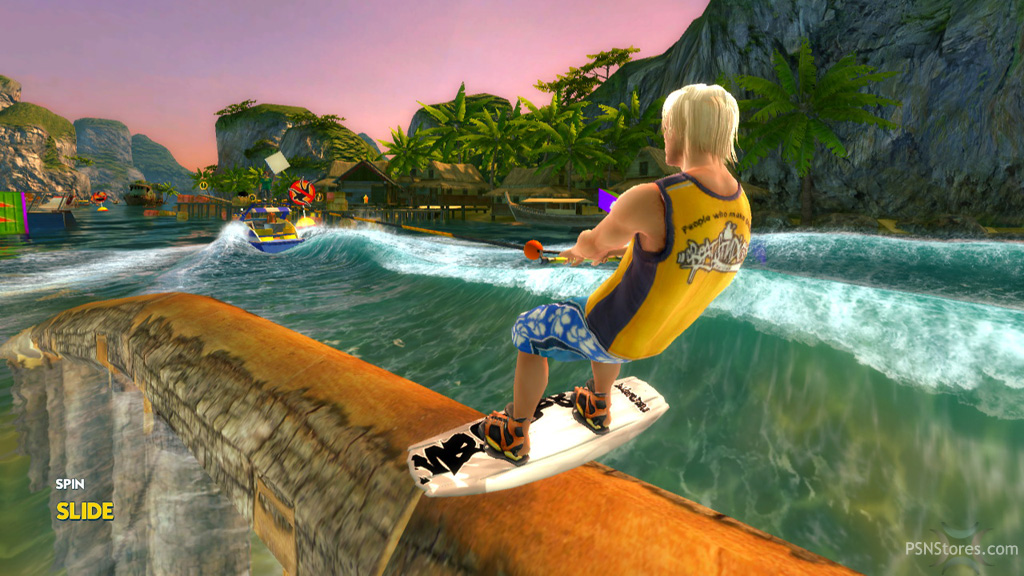 PSNS: This isn't your company's first game on PSN. What have you learned from the previous games that will make Wakeboarding HD better?
SH: Keep the game mechanics simple, and highly rewarding. A game downloaded for $10 to $15 should never be complicated. Everyone who tries it should be having fun in 5 minutes, and Wakeboarding HD provides that.
PSNS: Judging from the screens it looks like the game is trick oriented. How does the scoring system work in the game?
SH: Tricks play a part in scoring, but it depends on the level. Every level offers a unique combination of challenges. Some levels require a great amount of tricks, and the player is judged by how many tricks are performed and how well they are executed. Other levels focus on different objectives, like destroying boats, or avoiding sharks.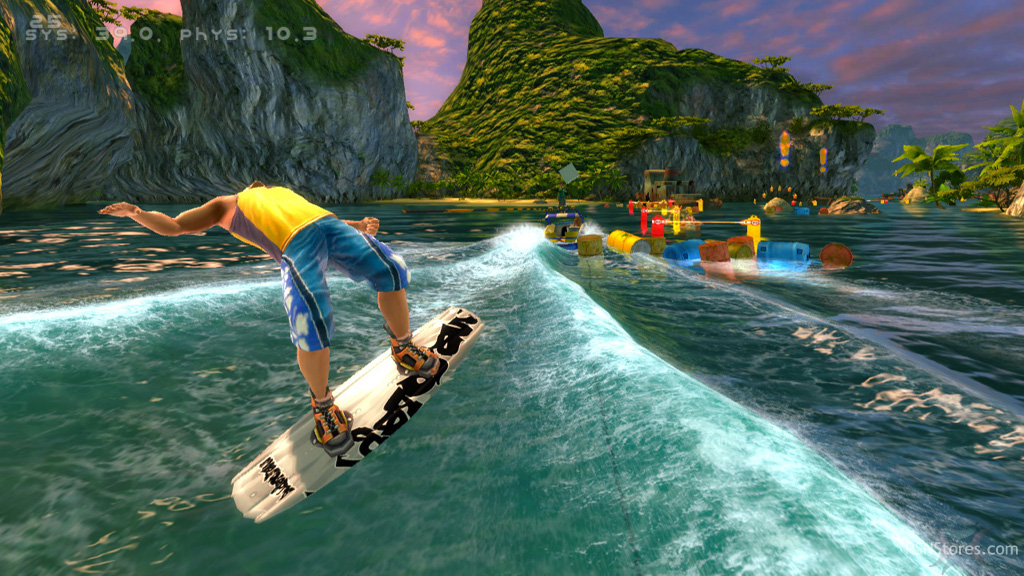 PSNS: I noticed split-screen multiplayer. Are there many different modes in the game?
SH: Each level, with its own set of challenges, can be played in split-screen multiplayer against your buddy on the couch.
PSNS: Will the modes all take place in one sort of "hub area", like one island, or are there many different levels for the players to board around in?
SH: All the levels take place in the South Pacific geographical region, but each level is a unique track, with its own layout. Some levels have very unusual environmental elements.
PSNS: I know many people base their decision on buying PSN games off trying a demo. Do you plan to have a demo for the title at launch?
SH: We're discussing it. Stay tuned!
PSNS: At GDC Sony officially announced their motion controller, the PlayStation Move. Are there any plans to implement motion controls into Wakeboarding HD?
SH: We're really excited about PlayStation Move, and Wakeboarding HD might just be the perfect game for it. There's nothing to announce just yet, but stay tuned.
PSNS: When can we expect to see the game hitting the PSN store?
SH: Thursday, March 18 in Europe and March 25th in North America.
We would like to thank Scott for doing this interview, the first on our site.
---