ESRB Watch: New Creat Studio Games (Update)
Posted by Chris K on December 23rd, 2009 | 0 Comments | Tags: Creat Studios , ESRB Watch
Update: Scott from Creat Studios got back to me. They have no comment as of yet, but he did say that we could expect some information around the start of the new year. So be sure to check back around then for more info.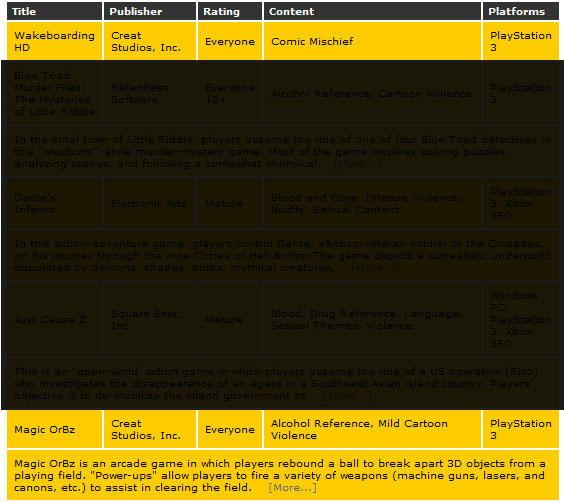 Two games from Creat Studios have been rated by the ESRB. The first is Wakeboard HD.
This is an arcade-style sports game in which players can ride wakeboards in oceanic races, perform stunts, and complete wakeboarding missions. Some missions encourage players to crash through scattered objects in the water (e.g., billboards, bins, or even stylized bombs). Players can also surf into "cartoony" sharks, resulting in a brief shrieking sound before they are quickly returned to the race.
The second is Magic OrBz. The ESRB listing the following for this game.
Magic OrBz is an arcade game in which players rebound a ball to break apart 3D objects from a playing field. "Power-ups" allow players to fire a variety of weapons (machine guns, lasers, and canons, etc.) to assist in clearing the field. One power-up grants a "drunken ball" attribute (i.e., erratic patterns) and can be obtained by picking up a bubbling champagne bottle.
This is the same description that Magic Ball has, Creat's "breakout" type game. So it possibly means that Magic Ball is being renamed.
I have contacted Creat Studios to find out more on these two titles.
Updated with Wakeboard HD info from the ESRB site.
---