Review: Persona 4: Dancing All Night
Posted by Curtis H on September 22nd, 2015 | 5 Comments | Tags: Persona 4: Dancing All Night
Persona 4 Dancing All Night is the latest in a line of P4 spin-off games and serves great as a celebration of the P4 cast. I love it not only as a sendoff to a really likeable cast of characters, but also because it's just a really solid rhythm game.
Dancing All Night features a visual-novel style story mode that is so much better than I ever expected. Rise is preparing to make her big return at an upcoming music festival and as part of this she's invited all of her friends to join as backup dancers. From there the game deals with a new video that appears at midnight, another world filled with shadows, and a new mystery to solve. The story finds success in building off key themes present in Persona 4 while adding a unique twist to the familiar. In this case the team uses the power of dance to ward off shadows and help a new set of characters come to terms with their identity. The act of dancing itself works super well when you view it as a form of expression. Each character has their own dancing style that goes hand-in-hand with their own personality. (For instance Chie takes on a Kung-Fu style approach to her dances.) There's a sense of confidence that's evident within each character's dancing style and the story itself. Dancing away shadows instead of fighting them might seem goofy, but it totally works in this context. For a game that's central theme revolves around identity Persona 4 Dancing All Night sure knows exactly what it is and what it wants to achieve.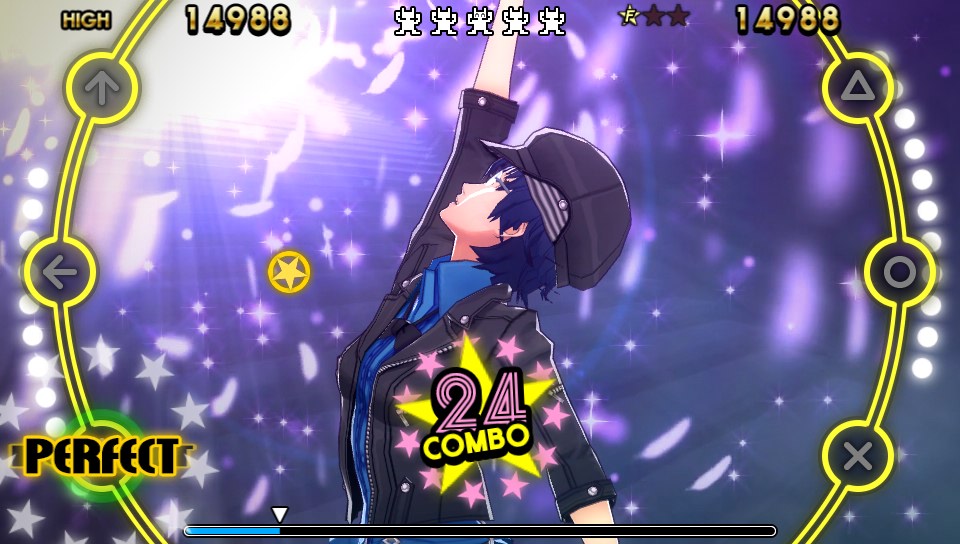 Each song is played with a specific character and a selectable backup dancer that'll join in depending on your performance. Notes move in from the middle of the screen to the edges towards each button prompt. (Up, Left, Down, Triangle, Circle, and X.) In addition to single notes the game will also throw double notes that are connected horizontally/diagonally and hold notes. There's also optional scratch notes that you can hit by flicking the analog stick. These will build up your fever which will activate at certain points in a song. These fever sections welcome the backup dancer to the mix as they join for a brief period to dance along. For instance you might see Teddie join Yosuke in a dance as they compliment each other on their smooth moves. If you're doing well you'll also hear the other cast members cheer you on as well. You can turn off the crowd cheering though personally I love it. Dancing All Night feels like a celebration of these characters and hearing Nanako cheer me on as I dance will always feel great.
Aligning the button prompts around the edge of the Vita screen works really well when you consider screen size. UI placement like this allows for notes that are easy to keep track of while also leaving room for the characters to dance on screen. With a couple exceptions the flashier stuff is set along the edge of the screen as well which helps to not divert your attention from the notes. Every so often I do find myself missing a note due to distracting visual effects, but I never found it to be a huge problem. That said I don't have access to a PlayStation TV (which this game works with) so I'm not sure how well the UI works there. A smaller screen makes it easy to track both sides of the screen while a TV might make that difficult.
Completing songs rewards you with in-game currency that can be used to buy items, costumes, and accessories from the shop. Items specifically can be used to increase the amount of money each song rewards you with as well as adjust a handful of things relating to each song's note patterns. Items can change note patterns, make notes change speeds, randomize note layouts, include notes that fade in, and even turn notes completely invisible. Turning these items on might make the songs harder, but they also bring better rewards. Combine this with four difficulty settings and Dancing All Night comes packed with plenty of reasons to come back for more.
I mentioned before that Persona 4 Dancing All Night feels like a celebration of these characters. Yes, this is a fan-service game meant specifically for fans of Persona 4. That's fine, but it's also a legitimately fantastic rhythm game with a surprisingly great story mode. Playing this game fills me with the same kind of joy and good vibes that Persona 4 gives me as well. I love these characters and it's just so much fun to see them dancing the night away. With that in mind it also serves as a fitting way to say goodbye to these characters that I've come to love over the years. With the next entry in the Persona series still a year off it's nice to have one last dance with the P4 crew.
A copy of this game was provided by the publisher for review purposes. For more info on our review policy click here.
Score:
What I Like:
Great track list
Story mode that's surprisingly good and works within the Persona 4 world
Getting perfect streaks and watching a second character join in and dance is really rewarding
Great choreography
Lots of items to use to change up the way each song plays
Good selection of costumes
Feels like a celebration of what Persona 4 accomplished
What I Dislike:
There's a couple notes that can be hard to see/blend in with the background
---