Review: Mutant Mudds Deluxe
Posted by Curtis H on December 23rd, 2013 | 2 Comments | Tags: Mutant Mudds Deluxe
One day while gaming with his grandma Max's world is changed when a meteor comes crashing into Earth bringing the Mutant Mudds with it. Armed with a jet-pack and a heavy-duty water cannon it's up to Max to collect the Water Sprites and vanquish the Mutant Mudds for good. This is all the story you'll get with Mutant Mudds Deluxe and what's left is a fantastic and sometimes brutally challenging platformer.
Each stage in Mutant Mudds has you shooting mudds, hovering with your jet-pack, and collecting diamonds. On top of that you'll also jump back and forth between three different planes through the use of various jump-pads throughout each stage. Sometimes you'll do this to avoid enemies, progress through a stage, or even reach a bonus level that otherwise would be out of reach. It's a cool effect but, considering that the game's original platform featured a 3D screen, I couldn't help but wonder how much more each layer might have 'popped' in 3D. That said the game looks fantastic and feels completely at home on the Vita. (Not that it doesn't play fine on the PS3 but I found the Vita to be the preferable device here.)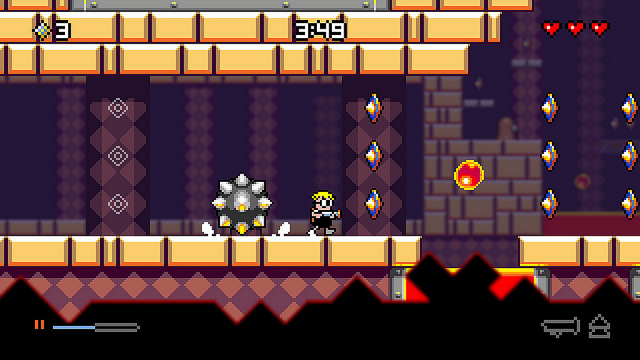 The diamonds you collect in each stage accumulate and eventually allow Max to equip one of three power-ups. (A higher jump, more power for your jet-pack, and a stronger water-gun.) These power-ups can be used to unlock special stages or to make certain difficult stages much easier. Something I appreciated was the ability to use the high jump to bypass large sections of a stage if I was having a difficult time. While Max can only equip one power-up at a time you'll eventually unlock a character that can use all three at once which leads to some really amazing/challenging stages.
Mutant Mudds Deluxe features twenty main levels as well as twenty ghost stages. The main levels might start out pretty easy but it doesn't take long before you're dying over and over again. Then there are the ghost stages that are slightly remixed versions of the previous stages with the caveat that all enemies are ghosts and therefore can not be killed. This means you'll not only have to avoid spikes and other various hazards but also dozens of enemies. The ghost stages prove to be really difficult but they've got nothing on some of the bonus stages hidden within various stages in the game. To finish everything Mutant Mudds Deluxe has to offer you'll have to master the use of every skill and power-up available. It's never frustrating but be prepared to spend extended periods of time on certain stages late in the game.
Unfortunately as of this writing the cross-save functionality does not fully work. Uploading my save from the Vita just gives me an error and while my PS3 save does upload successfully I can't actually download it to the Vita. The developer is very much aware and is working to get this resolved as soon as possible. The good news is that's the only bad thing I have to say about Mutant Mudds Deluxe. This game is packed with content that is incredibly challenging, rewarding, and just plain fun. Don't pass on this one.
A copy of this game was provided by the publisher for review purposes. For more info on our review policy click here.
Score:
What I Like:
Levels made up of multiple planes
Power-ups providing access to secret stages
Ghost stages
Very difficult and satisfying
Catchy music
What I Dislike:
At the time of writing the cross-save feature isn't working.
---