Review: Kick & Fennick
Posted by Curtis H on February 4th, 2015 | 3 Comments | Tags: Kick & Fennick
Shortly after Kick wakes up alone (seemingly in a world in ruin) he finds a small flying robot named Fennick and a rather large gun. Not long after the pair run into a large guard robot in which Fennick quickly comes to Kick's rescue. After the encounter Kick notices that Fennick's battery is broken which leads the two on a journey towards the Core Tower in hopes of finding a new battery. To do this Kick will need to use his new gun's strong recoil to jump through a variety of platforming challenges, blast away unwanted robots, and ultimately take on the huge guard robot.
Kick & Fennick's journey covers five chapters (forty-five stages total) as you recoil-jump and blast your way through any obstacle in your way. The gun's recoil allows for Kick to double-jump, kill robots, blast through walls, and in some instances it'll activate switches. For the most part this mechanic works well and flinging yourself across large gaps can be pretty fun. Though on occasion, and I apologize for the pun, the recoil/collision detection can be a little finicky. To be specific there's a handful of spots where you need to be really precise in order to avoid dangerous lasers. More than once I felt like I had made it through a tight gap, Kick clearly had space and wasn't touching anything dangerous, only for the game to decide that I died and restart the checkpoint. It doesn't happen often, but when it does it's pretty frustrating. As the game progresses you'll use bounce pads, treadmills, portals, magnets, and a temporary recoil boost to clear tougher challenges. Each chapter culminates in an encounter with the large guard robot who seems intent on preventing any sort of progress. The first few encounters are pretty forgettable, but later encounters do a better job of taking advantage of the game's mechanics.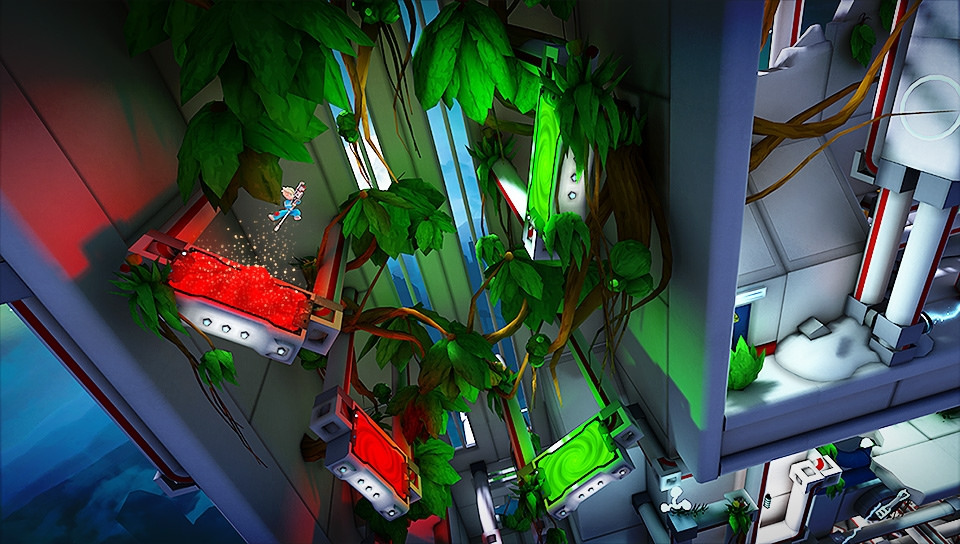 Propelling Kick across large gaps and over obstacles feels good. It's a great mechanic that unfortunately doesn't really come into its own until later in the game. The last couple chapters start using portals, bounce pads, and treadmills in a way that really takes advantage of how you traverse each level. The moments in which you're flying through portals, immediately followed by sliding along a treadmill, then bouncing off a bounce pad right into another portal feels great.
If you hit a hazard Fennick will swoop in to save you and carry you back to the last solid platform that you were standing on. To do this Fennick requires a source of power that drains with each rescue. The game gives you plenty of chances to make mistakes, however towards the end I found a number of variables coming into play that caused me to drain Fennick's power and completely restart the level pretty often. At times I felt partially betrayed by the collision detection (dying when it seemed clear that I wasn't touching a laser hazard) and there were times in which the camera was positioned in a way that made it difficult to see what I needed to do. Specifically the camera will periodically change to make things more cinematic by zooming in or altering its angle. Sometimes this makes it difficult to see where you're going and can lead to missing a crucial jump. As I mentioned before there are times in which you're required to preform some precise jumps that, when you combine the issues I just mentioned, can result in a good deal of frustration. Especially when you use up all of Fennick's power and are forced to restart the stage. Comparative to the entire game this frustration only came up a small number of times, and the stages are pretty short anyways, but it did happen enough to sour me on the game a little.
As the journey comes to a close the game throws one final encounter with the guard-robot-dog-thing at you. (This is really the only 'boss fight' whereas the other encounters focused on escaping.) It's in this fight and in the fourth encounter with this particular robot that the game takes full advantage of the recoil system. The final fight in particular lets you finally take a more offensive approach in battle rather than just using your gun as a platforming device.
Kick & Fennick is the kind of game that I was ready to put down about a chapter before things wrapped up. It's not a bad game, I'm mostly positive on it, but it took too long to capture my attention. So long that by the time things were getting good I was already wanting the ride to be over. I really like the recoil jumping I just wish they did a lot more with it. Some really cool stuff comes into play at the end, but by the time it happened I was already checked out.
A copy of this game was downloaded through PlayStation Plus for review purposes. For more info on our review policy click here.
Score:
What I Like:
Recoil-jumping
Chaining jumps, portals, bounce pads, and rails together.
Last few boss encounters are done well
What I Dislike:
Game doesn't get interesting until a little over half way through
Camera
Super precise jumps combined with some occasionally poor collision detection.
---