PlayStation Mobile Update: October 21st 2014 – Candy, Please!, Try to Survive
Posted by chat Annette and Ashley www.shensugor.com on October 21st, 2014 | 2 Comments | Tags: PlayStation Mobile Store Update
Here are this week's releases on PlayStation Mobile:
---
Candy, Please! ($1.99)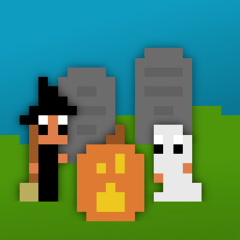 Publisher: Nostatic Software
Size: 11MB
Players: 1 Player
IAP: Unknown
Languages: English
Ahh, Halloween – a time to dress up, carve pumpkins and amass glorious amounts of candy! In order to collect enough candy, once around the neighbourhood just won't do – you are going to need several different costumes to pull it off.
– Classic adventure game fun.
– Explore a lighthearted, interactive world and solve puzzles.
– Search your house and the neighbourhood for what you need to make costumes.
– Carve your own pumpkin.
– Go trick-or-treating and collect that sweet, sweet candy.
Let nothing stop you from getting your fair share – and more!
---
Crossfire ($2.79)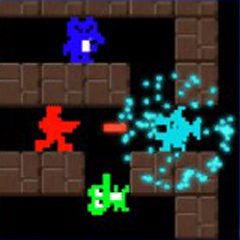 Publisher: Heit Productions
Size: 27MB
Players: 1-2 Player(s)
IAP: Unknown
Languages: English
You are just one lone space marine (since what else would you be? An archer? A fairy? A wheel? Well, maybe.) in a labyrinth full of deadly creatures that are more than happy to eat you (and each other) for dinner. Fight, evade, and sneak your way through increasingly chaotic levels of pandemonium in a quest to collect the treasured stars of power in this hectic arcade shooter that takes inspiration from gaming's finest early years long before space marines became a thing.
---
EP Chain Reaction (Free)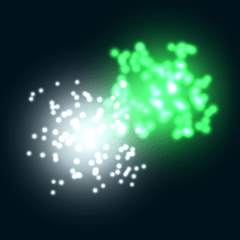 Publisher: EP Games
Size: 45MB
Players: 1 Player
IAP: Yes
Languages: English / Various
Explode the particles and make the biggest chain reaction ever! Are you ready to face the challenge?
Features:
* Beautiful HD effects
* Improve your explosion size and time to make bigger chain reactions
* Very entertaining, fast-paced game
* Available in 21 languages
* Register your free EP Games account and challenge your friends to make the highest score
---
GYRO DOT EAT ($1.29)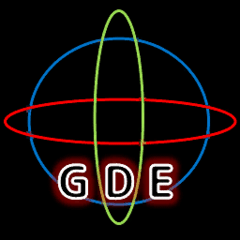 Publisher: Jiruo Software
Size: 55MB
Players: 1 Player
IAP: Unknown
Languages: English
It is "Maze chase game" to operate the player and the enemy with the motion sensor.
24 levels.
---
Hallowed Sky ($1.49)

Publisher: CooplySolutions
Size: 41MB
Players: 1 Player
IAP: Unknown
Languages: English
Collect lost souls while avoiding dangers. Unlock and choose from a range of characters and see how long you can stay in the air.
The game uses simple one touch controls.
---
Robot-Escaper ($1.29)

Publisher: Z-D
Size: 31MB
Players: 1 Player
IAP: Unknown
Languages: English
Your task is to complete all levels.
Each level is unique.
To pass you will need a reaction, speed and patience.
On your way you will encounter various obstacles.
You will be cut, blast, crush.
---
Try to Survive ($1.49)

Publisher: Antonio Vildes Barbosa
Size: 85MB
Players: 1 Player
IAP: Unknown
Languages: English
Simple and addictive, Try to Survive is a survival game that will test your reflexes and skill in a virtual arena against enemies and traps. Survive as long as possible and destroy your opponents.
---
The following games received updates:
3D gems (Z-D)
Dodgecube (Garrison Davis)
Flight World Simulator (Johan Valfridsson)
MUSYNC (Inferno…)
---