Save the planet as the Vice President of the world in Citizens of Earth on PS4, and PS Vita
Posted by chat Annette and Ashley www.shensugor.com on April 9th, 2014 | 2 Comments | Tags: Atlus , Citizens of Earth , Eden Industries
When a Kickstarter proves unsuccessful, it's often the end of the story for a game. That won't be the case for Citizens of Earth. Developer Eden Industries, whose staff includes members from Luigi's Mansion: Dark Moon's Next Level Games, has partnered up with Atlus to bring the role-playing game to PS4, and Vita, alongside non-PlayStation platforms like PC, Wii U, and 3DS.
Atlus is known for publishing RPGs, but Citizens of Earth is unlike anything they've previously put out. After a hard fought political campaign, you're the Vice President of the entire world. But after a day of rest, disaster strikes! Everyone's gone crazy, and as the Vice President it's your duty to get to the bottom of this commotion, while of course getting other people to do your grunt work. You can recruit 41 wacky citizens to send into battle. The forty-first of which will be decided through a contest where fans can submit their ideas.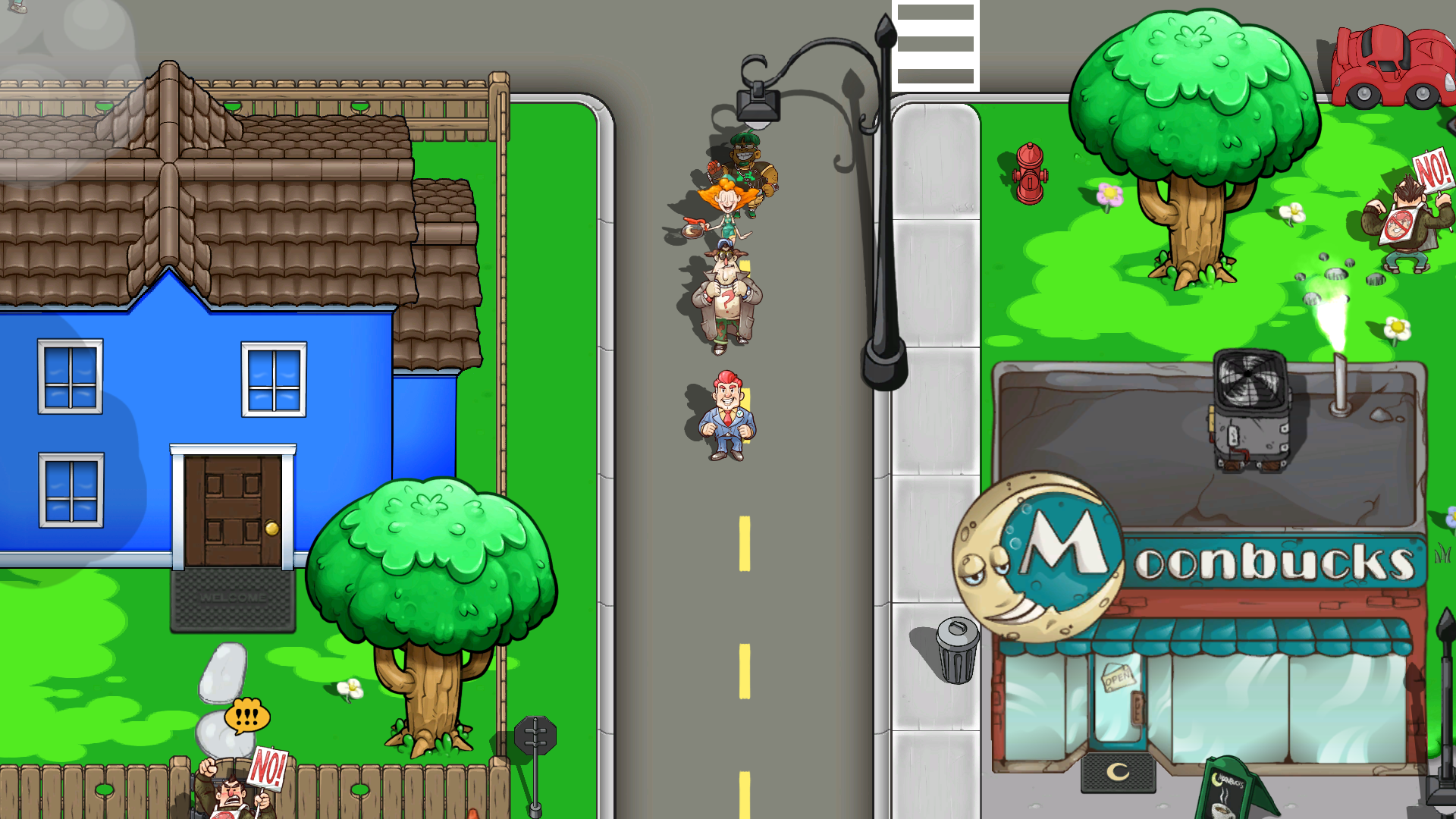 Click to view full gallery...
The game also features:
Gotta Recruit 'em All — Every vote counts, and sometimes you have to do some pretty shameful things to get them… Citizens of Earth has 40 citizens to collect to fight in your party, each with their own unique play-style and out-of-combat world abilities. Everyone in town will lend a hand, from the way-too-jittery Barista and the ever-optimistic Weatherlady to the notoriously skeezy car salesman and the ridiculously shy (and totally real) Sasquatch!

Occupy Earth! — It's time to take back Earth from the opposition. There are no random encounters in Citizens of Earth; you'll see every enemy on the field before you fight them. So go ahead and maneuver around those unwanted encounters or command your constituents to charge in for an ambush! As long as the VP's got a party to do his dirty work, it's all good!

It's Déjà Vu All Over Again… But Better — Citizens of Earth has some serious nostalgic cues, but don't worry, we didn't skimp on the graphics for the sake of being retro. This title goes far beyond the 16-bit standard, with real-time lighting, HD art, a day/night cycle, weather effects, and more.

Four- or Eight-Year Terms — The depth of content in Citizens of Earth means you can play a quick and casual adventure or a white-knuckle, pray-you-survive-until-the-next-turn grind-fest! The game is filled with hours of bonus content to explore, optional side-quests, and of course, citizens waiting to be recruited!
Citizens of Earth is scheduled to launch later this year.
---