Sony Is Asking PS Mobile Devs About Vita TV
Posted by Chris K on December 17th, 2013 | 0 Comments | Tags: PlayStation Mobile
I got an interesting tip today regarding PlayStation Mobile and support for the PlayStation Vita TV. Currently the Vita TV, only available in Japan, does not support PlayStation Mobile. But from the looks of things that might be changing.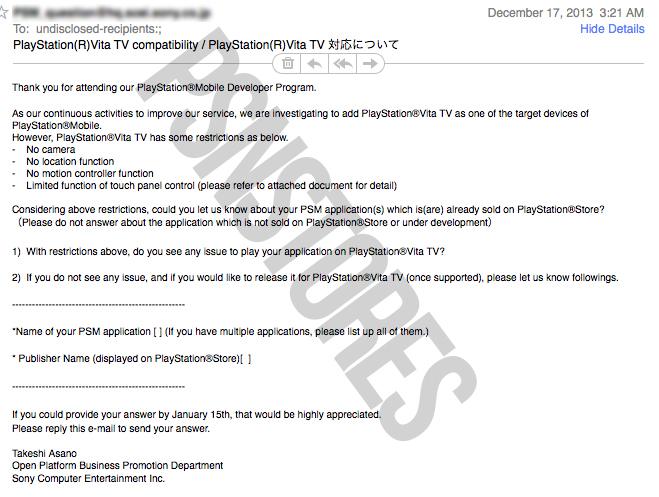 The email reads, "As our continuous activities to improve our service, we are investigating to add PlayStation Vita TV as one of the target devices of PlayStation Mobile." It continues, "However, PlayStation Vita TV has some restrictions as below: No camera, No location function, No motion controller function, Limited function of touch panel control" They then ask for the developers to list which of currently released titles would work under those conditions and if the publisher would like to see them on the device.
While the Vita TV still has not officially been announced for release in the West, this could be hinting to that. I for one would love to play some of the PS Mobile games (like Super Crate Box and Shuttle Quest 2000 for starters) on my TV. Would you like to see PlayStation Mobile support added to Vita TV, let us know in the comments.
---