[UPDATED] Pinball Arcade PS4 will [NOT] be Cross-Buy with PS3 and Vita
Posted by Nick K on June 12th, 2013 | 9 Comments | Tags: E3 2013 , The Pinball Arcade
Chris and I have been seeing a lot of really amazing games, both big and small at E3 2013. Of course one game I had to check out was The Pinball Arcade for PS4, and it was playable in the Sony booth. One thing is for sure, it's the same game just prettier.
While playing I noticed a few tiny improvements which I was able to get confirmation from the Sony attendant fielding my questions and watching my gameplay like a hawk. I was playing the Star Trek TNG table which I was told was fully finished just in the nick of time for E3. The DualShock 4 is so tight with improved shoulder buttons, it was easy to notice that there was literally no controller lag which is something the PS3 version suffers from with my TV in Game mode (zero lag gaming setting).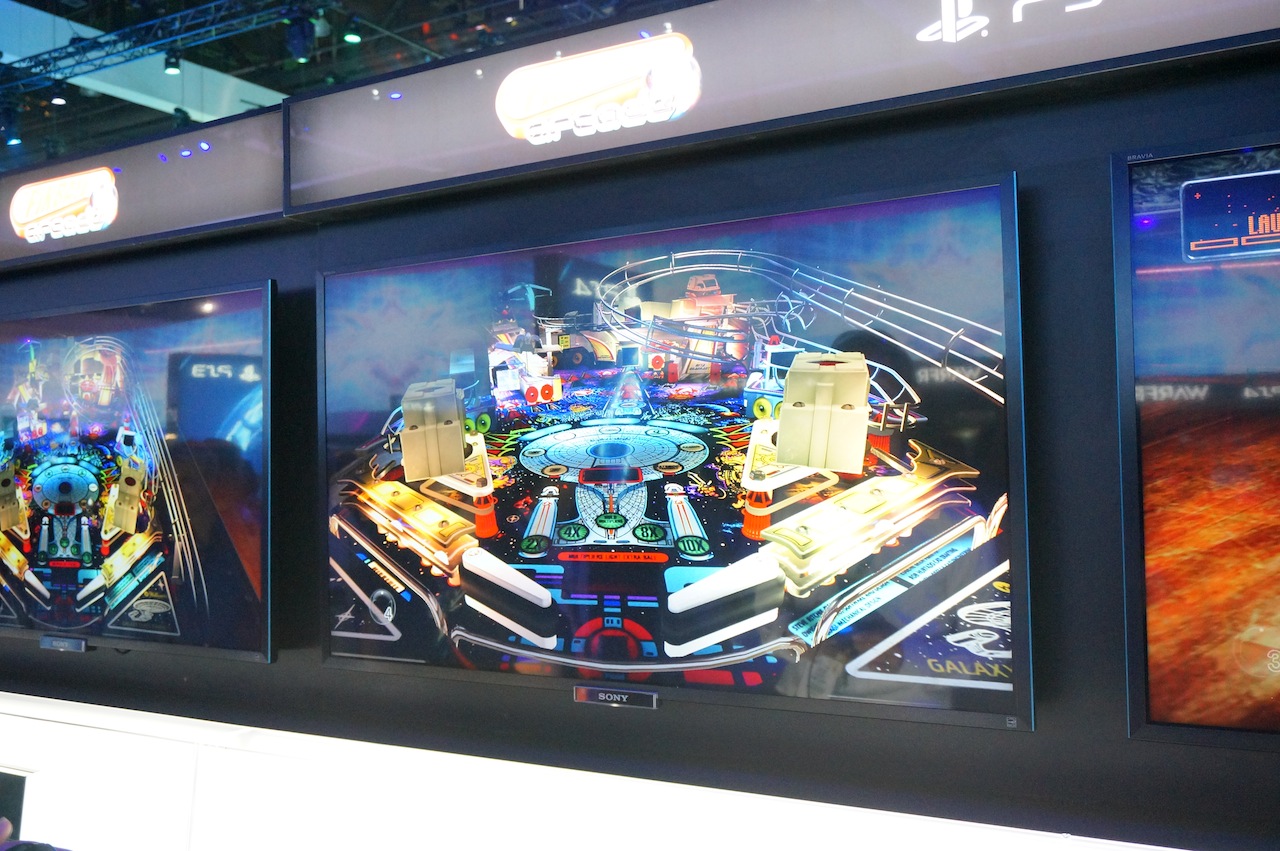 Click to view full gallery...
Also confirmed was the anti-aliasing and overall smoother gameplay. No more jaggies or funky lines to look at while the camera followed the ball to the upper playing field. Framerate was a buttery 60 fps and the table play benefited from all of this. I could no longer blame draining the ball on a skipped frame. Now it was happening because I wasn't used to the ball moving around so quickly.
Lastly, I asked the Sony attendant what the plan was for Cross-Buy, whether the PS4 version would be a separate purchase or gifted to anyone that owns the PS3/Vita versions. He confirmed [said] that on Sony's consoles it will adhere to the same Cross-Buy rules that the base game and all the table packs have. So if you're planning on buying a PS4 on launch, here is another game you'll already own on day 1.
[UPDATE 1] – There has been quite a stir in the pinball community as of this post. Speaking with the Sony person (not a FarSight employee) manning the Pinball Arcade PS4 kiosk I stepped up to, I cautiously asked my questions to see what he knew. At most E3 kiosks (read: ALL) there is typically a person directly linked to that game. In most cases, it's the person or a person who made the game. The Pinball Arcade had no one with badges that read "FarSight Studios" sadly, but both the older gentleman and the younger one seemed extremely knowledgeable about the business of this game.
That having been said, the recent outcry for this post to be taken down due to false information has led to an immediate email sent to FarSight Studios for clarity. I await to hear an official response from an individual at the company (rather than the Facebook account) I love so very much based in Big Bear California. I would kill to visit their studio and would gladly drive there myself to get this information if it was necessary. If I update this post again, it will be to clarify the matter of Cross-Buy once and for all. PS4 will likely come out in November, my guess is before the Xbone, so there is still time to clear the air or for this to become a reality because Sony wants it.
[UPDATE 2] – As I've mentioned, I reached out to FarSight Studios and finally received confirmation from Mike Lindsey that the PS4 version will NOT be free to those who have already purchased the base game and any of the DLC table packs on PS3 or Vita. Maybe this is because of PS Plus recently giving the game away, maybe it's because of how labor intensive working on a the PS4 version has been.
Here's a quote from Mike Lindsey in response to this post and my cry for the truth:
Farsight decided against cross-buy because of the amount of work that goes into the PS4 tables. The build we sent to E3 took a considerable amount of time from the developers and the art department and still was not enhanced to the full extent.
---