PAX East Roundup 2: Zombie Tycoon 2 and Sanctum 2
Posted by Eric G on March 28th, 2013 | 2 Comments | Tags: PAX East 2013 , Sanctum 2 , Zombie Tycoon 2
PAX East 2013 was just about as busy and crazy fun as I had expected going into it. I got to see a ton of upcoming games, some of which were even for the PlayStation Network (imagine that!). I'm breaking my roundup posts into three posts with two games featured in each one; I want to give these promising titles enough room to blossom. Plus, I've got an e-satchel full of assets for them that you might not have seen anywhere else. But wait, there's more! Well, not much more, really, except for the games. Shall I proceed? (Yes, indeed!)
Zombie Tycoon 2: Brainhov's Revenge
The first Zombie Tycoon was a minis title that released back in October of 2009. Back then, Chris was one of the only writers on the site, and our review methods were a lot more succinct. Apparently the game wasn't so great. To be fair, the minis platform was a restrictive and to put out a 3D RTS on it is impressive in it of itself. I can say with surety that the sequel to Zombie Tycoon is bigger, better, zombie-er, and multiplayer.
Zombie Tycoon 2 is a real-time strategy game that puts you in control of hordes of different unit types. Frima has designed the game very smartly, knowing how unfriendly consoles typically are for this genre. Gameplay consists of moving a reticle around a map and pressing the face buttons to send different unit groups – zombies (O and Square), mobile deployer (Triangle), and your hero (X) – around. Capturing buildings grows your army, and killing creeps gives your hero experience. You can also capture big buildings to upgrade your smaller units. There are four different heroes, each with four different unlockable abilities. The game features two protagonists: Tycoon, and Brainhov. The single player campaign spans eight missions, four as each of the mad scientists. The missions are objective based and reminded me a bit of the original StarCraft, which is a very big compliment (go to this location, find this character, rescue this building, etc.). The maps are huge and exploration is encouraged by way of trophies. Did I mention that ZT2 has a platinum trophy?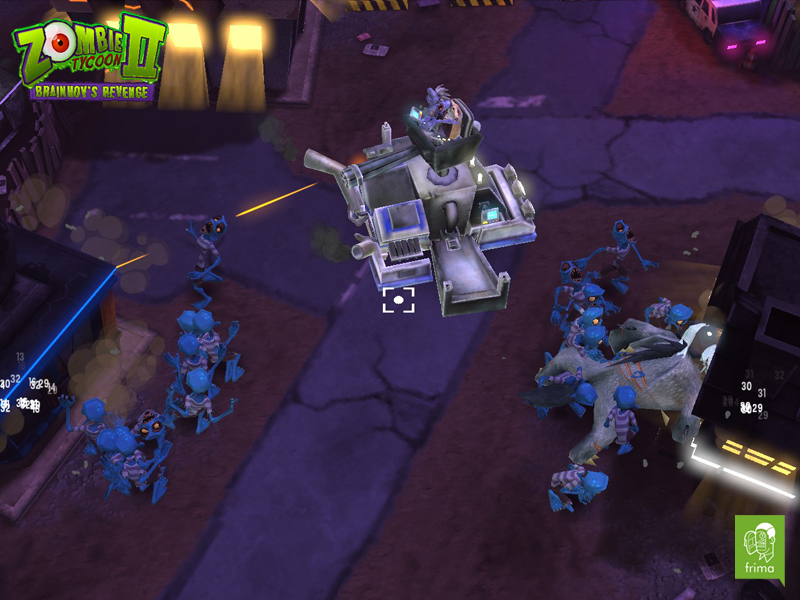 Click to view full gallery...
Zombie Tycoon 2 also features a one-on-one deathmatch multiplayer mode. Each player chooses a faction, either Brainhov or Tycoon (fast zombies or slow, relatively), then chooses one hero to go into battle with. To keep things simple, both factions have the same heroes and there's only one multiplayer map. The mirror map is expansive, with a lot of different path possibilities for either player to explore. The best attribute of the multiplayer is the fact that the game is $9.99 Cross Buy (YOPO) for both PS3 and Vita. You can mix and match systems to play, which will likely keep the multiplayer community active for a while. The game releases on April 30th, and I'm looking forward to playing through the humorous single player and getting walloped in the multiplayer (I'm not the strongest RTS player).
Sanctum 2
On my last day at PAX East, I was fortunate enough to swing by the Reverb booth to see if they're bringing anything over to PSN. Turns out they are, a game by the name of Sanctum 2. What is Sanctum 2, why have I never heard of it, and why is the booth so packed?
For starters, Sanctum 2 is the sequel to the wildly popular 2011 Steam game Sanctum. For those of you who have never heard of Sanctum (myself included only a few days ago), this is a first-person tower defense game. The sequel was built from scratch and the game's two creators, Oscar and Armand, both expressed that they took to the community to find out what to keep from the first game and what to add to the next.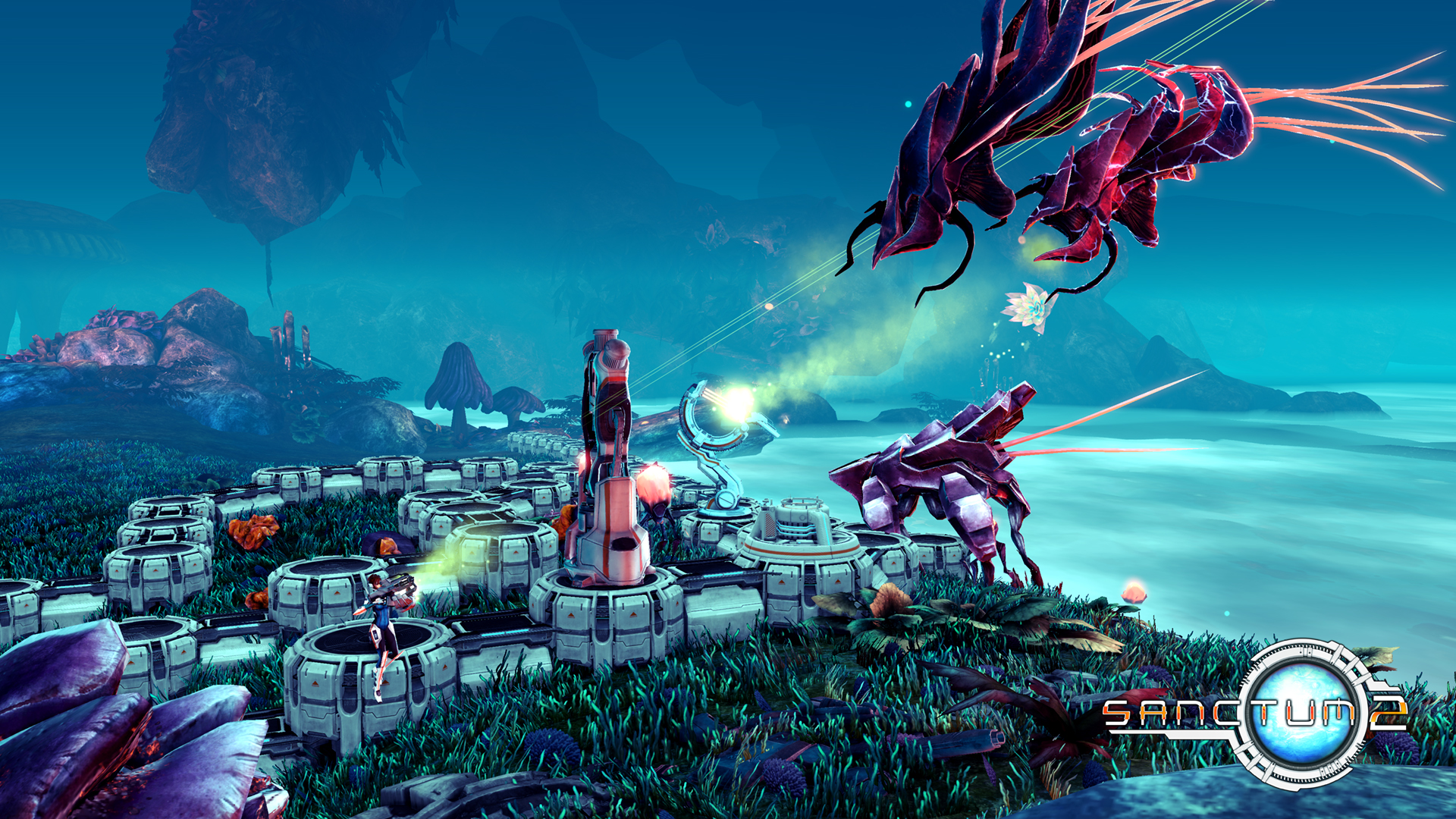 Click to view full gallery...
Sanctum 2 features four-player online cooperative play. Rounds are split into two phases: the build phase and the combat phase. During the build phase, players get time to build towers on a grid-like field. When the combat phase comes about (either player-initiated or timed), players can assist their towers in defeating hordes of various enemies. I came up against a wide variety of enemies in my time with the game, ranging from flying AoE proximity shockers to landlocked spitters. All of the enemies have blinking red weak spots, and they're all trying desperately to destroy your core. To be honest, I lost midway through the level I played. Still, I had a great time playing Sanctum 2 and it's now firmly on my radar for promising releases this year.
There are a total of 16-20 towers; you pick only four to go into battle with each level. The game also has a ton of different weapons and passive buff perks to unlock and equip. The story mode is drop-in enabled, allowing you to play with up to three others popping in and out whenever they can. Look for Sanctum 2 to release at $14.99 this summer, when, according to the devs, "the money runs out."
For more info on these titles and more, be sure to check out our PSNStores@PAX Podcasts – Episode 1, and Episode 2
---