PSNStores 2016 Game of the Year Awards: Day One
Posted by Curtis H on January 17th, 2017 | 0 Comments | Tags: Game of the Year 2016
With 2016 behind us the PSNStores Podcats once again have gathered to discuss our favorite games from the last year. You'll be able to hear the entirety of that discussion in podcast form on Friday, but for now, welcome to Day One of the PSNStores 2016 Game of the Year awards! Today we've got "Charmingest, Charming, Charmer", "Best Narrative", and "Best Soundtrack".
Day Two: "Best Visuals", "Best Multiplayer", and "Whity the Dolphin's Character of the Year".
Day Three: "Biggest Surprise", "Most Disappointing", "Best PS+ Game", and "Best Retail Game".
Day Four: "Best VR Game", "Best Vita Game", "Best PS4 Game", "Top 5 Games of 2016" and Game of the Year Podcast.
Charmingest, Charming, Charmer
This category was introduced last year as a means to seek out PSN's most charming games. We're looking for the most delightful of games to shine a light on here and this year's nominees each have their own way of doing just that.
A Boy and His Blob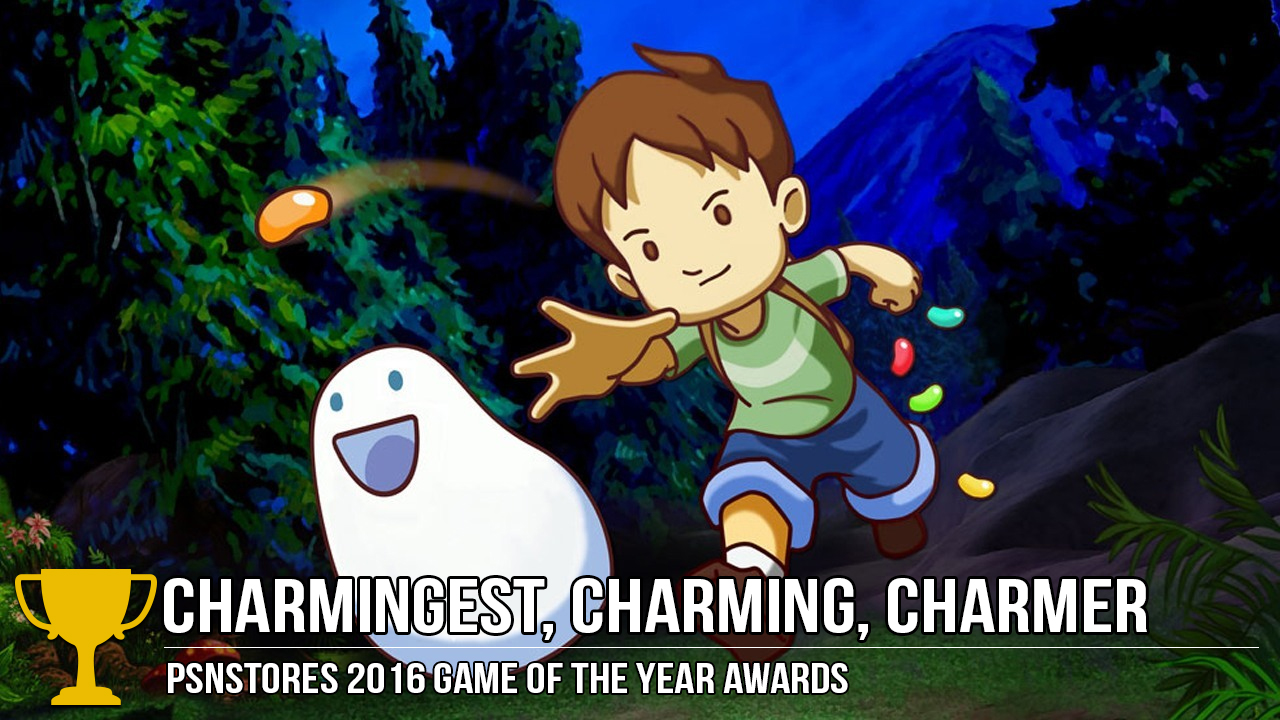 A Boy and His Blob easily earns a spot in the top three from it's dedicated hug button alone, but it's also so much more than that. Our review says it best:
"A Boy and His Blob from beginning to end is delightful, imaginative, and downright adorable. Over the course of forty levels the boy and blob duo work together to solve puzzles, free fellow Blobolonians, and ultimately take down an evil emperor. There's a real sense of friendship that forms between boy and blob throughout their journey which is then capped off by the implementation of a 'hug button'. If ever the journey seems too much all it takes is a quick hug to keep spirits high. It's also about the cutest thing I've ever seen in a game."
Runners-Up: Waddle Home, Tethered
Best Narrative
We had a lot to work with in this category, narrowing the list down to a top three meant some hard cuts had to be made. This year's nominees for Best Narrative left a strong impact on us, kept us asking questions, and in one case we dedicated an entire spoilercast just to sort out our thoughts.
Inside
Inside felt like a pretty clear winner for us in this category. The world-building done through clever puzzles, sound design, and visual set-pieces paved way for a third act twist that's impact can still be felt several months later. This is a tough one to discuss without spoiling key details, but suffice it to say, if you haven't played Inside yet – you really should.
Runners-Up: Oxenfree, Bound
Best Soundtrack
One thing that became evident this year, in many of our categories, was the amount of variety our nominees brought to the table. There was no short supply of incredible music this year, which made deciding upon a top three pretty difficult, but we feel good about where we landed.
Bound
If you've yet to play Bound, you should do that – or at least give its soundtrack a listen. It's a truly exceptional score that serves to elevate the journey you'll take through Bound. Give it a listen, we'll let the music do the talking on this one.
Runners-Up: Furi, I Am Setsuna
Be sure to come back tomorrow for Day Two of our Game of the Year Awards! Until then, what do you think of our picks? What stories, soundtracks, and charming games stood out to you last year?
---