There Came an Echo announced for PS4
Posted by Curtis H on April 10th, 2014 | 1 Comment | Tags: There Came an Echo
Iridium Studios have released their first official trailer for There Came an Echo along with the announcement that the game will be coming to PS4 later this year/early 2015. There Came an Echo is a voice-controlled real-time strategy game in which you'll deliver commands to your squad using a set of predetermined commands.
In addition to delivering commands your units will also ask you questions. They might make an observation, perhaps they have an open shot on the target, and ask for your permission to proceed. The game also has a large voice cast featuring such talents as Wil Wheaton, Ashly Burch, Yuri Lowenthal, Laura Bailey, Karen Strassman, Rachel Robinson, and Cindy Robinson.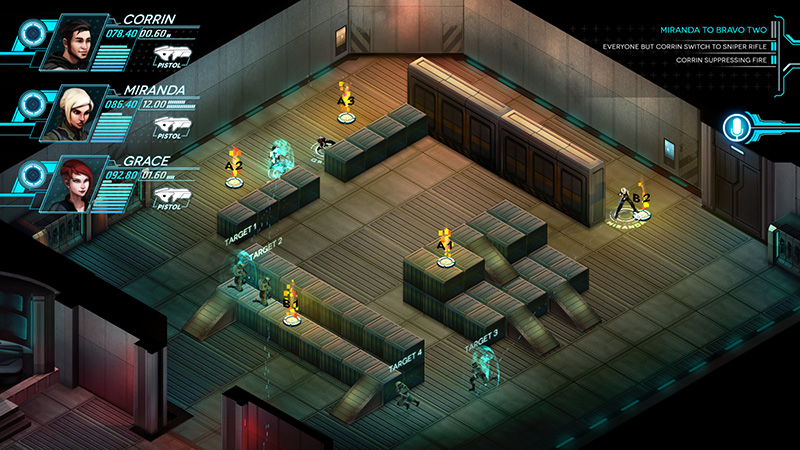 Click to view full gallery...
Corrin (played by Wil Wheaton) is a 31-year-old cryptographer and inventor of a very particular encryption algorithm…one that currently holds safe a shocking secret. His comfortable existence is interrupted by the enigmatic Val, who informs him that his life is in very imminent danger. His desperate attempts to uncover the truth are aided by a mercenary, Miranda; a vengeful young woman, Grace; and a mysterious British gentleman named Syll. The group is often at odds with one another, but eventually, they'll need to overcome their enmity to strike back at the forces who kill, indiscriminately and without mercy, for a chance to unravel the deepest mysteries of the cosmos.

The game takes place in the near future, and features some advanced technology: directed energy weaponry, personal energy fields, and various other accoutrements.

(Story synopsis from the Kickstarter page)
There Came an Echo will launch on PS4 in late 2014/early 2015.
---