[Weekend Discussion] PlayStation App update adds Live from PlayStation, but will you use it?
Posted by Nick K on January 31st, 2014 | 2 Comments | Tags: PlayStation App
The official PlayStation App has received an update that adds the Live from PlayStation feature of the PlayStation 4 to the mobile interface. Now, Android and iOS users can search a listing of live PS4 game streams through either Twitch or Ustream services. Unfortunately, it doesn't quite work the way you might have expected.
What does work is viewing a complete list of all the PS4 owners that have nothing better to do with their new console than to talk to their audience of one (me) while not playing The Playroom. Yes, you're girlfriend is hot. No, I don't want a cracker but I will watch you feed it to your dog.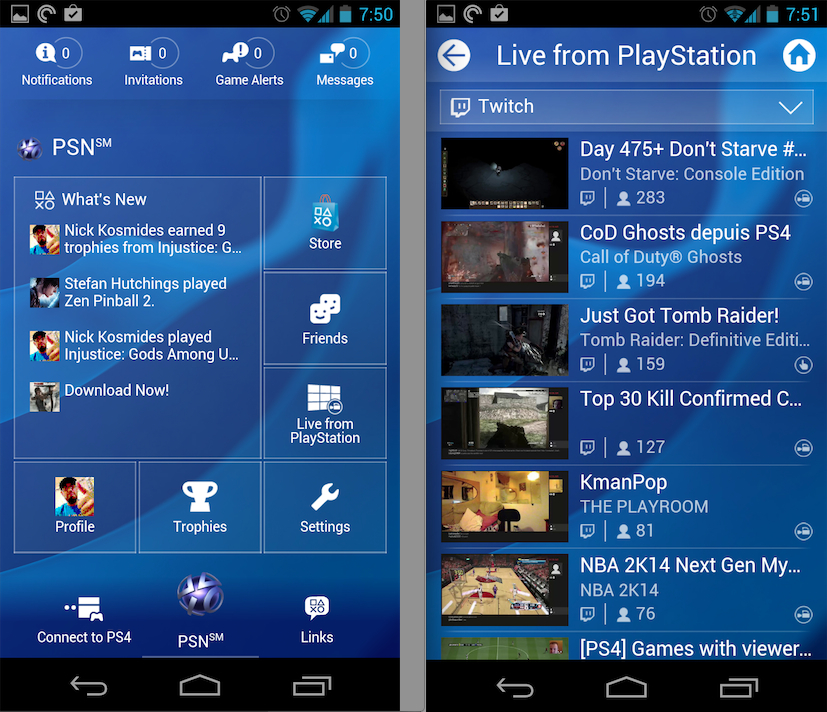 Click to view full gallery...
Once you've managed to find a game you might actually be interested in watching such as Tomb Raider: Definitive Edition, clicking the video box to play redirects your device out of the PlayStation App and into your browser. Although, if you happen to be using an Android device and also have the recently updated Twitch app installed, you will be prompted to choose between your browsers or Twitch. Just set Twitch as the default and you're done.
Here's a full list of changes and enhancements in the Android and iOS updates (no update for the PS4 Link app on Vita):
The [Live from PlayStation] feature has been added.
Playback of video in notifications from PS Store is now supported. These notifications appear under [What's New].
This app will no longer automatically connect to a PS4 system that is in standby mode.
Stability has been improved.
The question I have for you to answer over the weekend is…are you using the PlayStation App? If you've seen the original trailers for PlayStation 4 and the way the actors used their mobile devices to stay in the gaming loop with their PSN friends, does this resemble how you're using the app? Let us know in the comments below and share your answers with us on Twitter by tweeting @PSNStores.
---