Warframe Q&A with Associate Producer Pat Kudirka
Posted by Andrew Brewer on January 13th, 2014 | 0 Comments | Tags: Digital Extremes , Warframe
Warframe has been one of the PS4 launch games that I have been having had a lot of enjoyment with for the last couple of months. With fun co-op gameplay, flashy ninja moves, and a lot of content for the wonderfl price of free Warframe is a prime example of how Free-to-Play games, when done right, can be a great fit for PSN.
But the developers at Digital Extremes are far from being finished with Warframe. They have already released the first major update on PS4 and are constantly working on adding new content and tweaking the games systems to offer the best experience to the players. I had the chance to ask Pat Kudirka, the Associate Producer for Waframe, some questions about Digital Extremes, their experience with bringing a F2P title to the PS4, and whats in store for Warframe in the future:
Q. Digital Extremes has been around a long time in the industry and have worked on a variety of games, from Epic Pinball and Unreal Tournament to Bioshock and now Warframe. Can you tell me a little about the company and how it got started?
This is a great question as Digital Extremes just celebrated 20 YEARS in business in 2013!  20 years is a pretty big accomplishment for an independent game studio. We have seen a tremendous amount of change over the years in this industry.  Amazingly in our 20th year, we feel we have come full circle with where we came from and where we are now with Warframe.

The studio started during the shareware craze of the early 90's. Back then you put a demo out of your game for free and if people thought it was good, they would send in payment to receive more of the game on disc — incredibly similar to today's Free-to-Play model except we now have the Internet to speed up the distribution process!  Epic Pinball was designed and developed entirely by our CEO, James Schmalz who then founded Digital Extremes.  The company was close partners with Epic Games for many years on almost all iterations of the Unreal franchise. It's a pretty rich and interesting history that we recently tried to capture in video form as part of our 20th anniversary milestone.  You can view it here.
Q. Warframe launched back in November with the PS4 in North America. Can you give our readers an overview of the game?
Warframe is a co-op focused free-to-play game. Combined with RPG elements, this third person action title takes place in an evolving sci-fi world. Players assume the role of the Tenno, an ancient race of warriors each with their own unique exo-armor (Warframe) and special abilities, which can be enhanced and upgraded along with a large arsenal of weaponry.

Players work alongside the Lotus and other Tenno warriors to defend the solar system from evil and restore balance within.

TL:DR version: You are a Space Ninja!
Q. How did you guys come up with the idea for Warframe and how close was your original idea to what you implemented when you launched?
Warframe has been in the back of our minds since roughly 2003. It originally started as a tech demo in 2004 for the then next-gen consoles, which we wanted to expand on and call it Dark Sector, but that didn't seem to intrigue publishers. In their eyes sci-fi was dead and contemporary war games were a hot commodity; thus, the need to change the concept of the game dramatically to fit the requirements to garner a contract.  The heartbreak of never seeing that sci-fi game see the light of day would haunt the team for years.

Then in the spring of 2012, a small team at Digital Extremes was focused on reviving this previous dream title. Fictional documents and original concept art from 2003 got the ball rolling, and we've been moving forward ever since. It's quite amazing how many of the original ideas have made it into Warframe today.
Q. Why did you decide to offer a free to play game, rather than a paid title? Was this always the plan or was that decision made during development?
Digital Extremes has worked on many AAA box titles, which were a blast over the many years. We take pride in our previous work but at the end of the day we're an independent studio. We have our own ideas and saw that the FTP market would be the best way to share our creative ideas and work directly with the gaming community.

The beauty of free-to-play is that it's not a one shot deal. We don't box up the title, launch in stores and wait for the reviews and feedback to roll in. We actually get feedback real time from the community and address it as we release new updates and hot fixes. We are now fueled by the players who feel nearly as passionate as we do about making this game amazing.
Q. Free to play games are getting more popular but still seem to be in their infancy on home consoles. What made you decide to bring Warframe to the PS4?
That's a great question. With the success of Warframe shining on the PC and through Steam, Sony actually approached us around March/April of 2013 wondering if we were interested in bring Warframe to the PS4 console.

Immediately we asked:

"Will the PS4 support FTP games?" "Yes."

"Can we self publish the title?" "Yes."

"Can we update Warframe on a regular basis, similar to our PC model?" "Yes."

Shortly after that conversation Dev Kits were sent to the studio and we started working on Warframe for the PS4 immediately. Less than 8 months later Warframe was a Day 1 launch title on the PS4 and the rest is history.
Q. How has it been developing the PS4 version of Warframe compared to the PC? How close is the PS4 version to the PC?
Digital Extremes is very experienced with console development so the transition to the PS4 was quite smooth. We have our own proprietary engine, Evolution 2.0, which we've altered over the years for all of our console needs including automated building and testing.

Aside from the unique PS4 features such as the DualShock4 Controller, Remote Play, Activity Feeds, UI differences, etc the game itself is exactly the same as on the PC. The reason being is the continued hope for the Rainbow Bridge of cross-platform play, which we're still working toward.
Q. In preparing the game for the PS4 launch you must have had a lot of interaction with Sony. How has it been working with them?
Yes, communications leading up to launch was quite frequent, to say the least! Even now we're still communicating with Sony on a daily basis. Here you have a new console, with new tech and completely new policies surrounding indie developers, the free-to-play model, and beyond – it's an orchestra of communication to get all of those variables working in time for launch.

Warframe has launched on the PS4 but this is only the beginning. Sony not only sees the value in Warframe as a title but also in FTP as a whole. The support from them has been tremendous. We're going to continue to educate each other on the FTP model and I truly believe Warframe will help pave the way for future FTP titles and policies on the PS4.
Q. The game has been out for about a couple of months now. How has the reception for Warframe been and was it what you expected before launch?
The reception to date has been amazing! Free-to-play games on console is a fairly new concept but gamers are picking up on it quite quick. Warframe had the advantage of launching with the console, which was very important to us as a studio. We wanted to be a Day 1 launch title to prove that FTP can be a success right out of the gate.

Once gamers finish their box title campaigns they might play a few hours of multiplayer, but generally they're going to look for something new to move onto. Warframe is available in the store, it's free, and hundreds of hours of gameplay for the user to explore.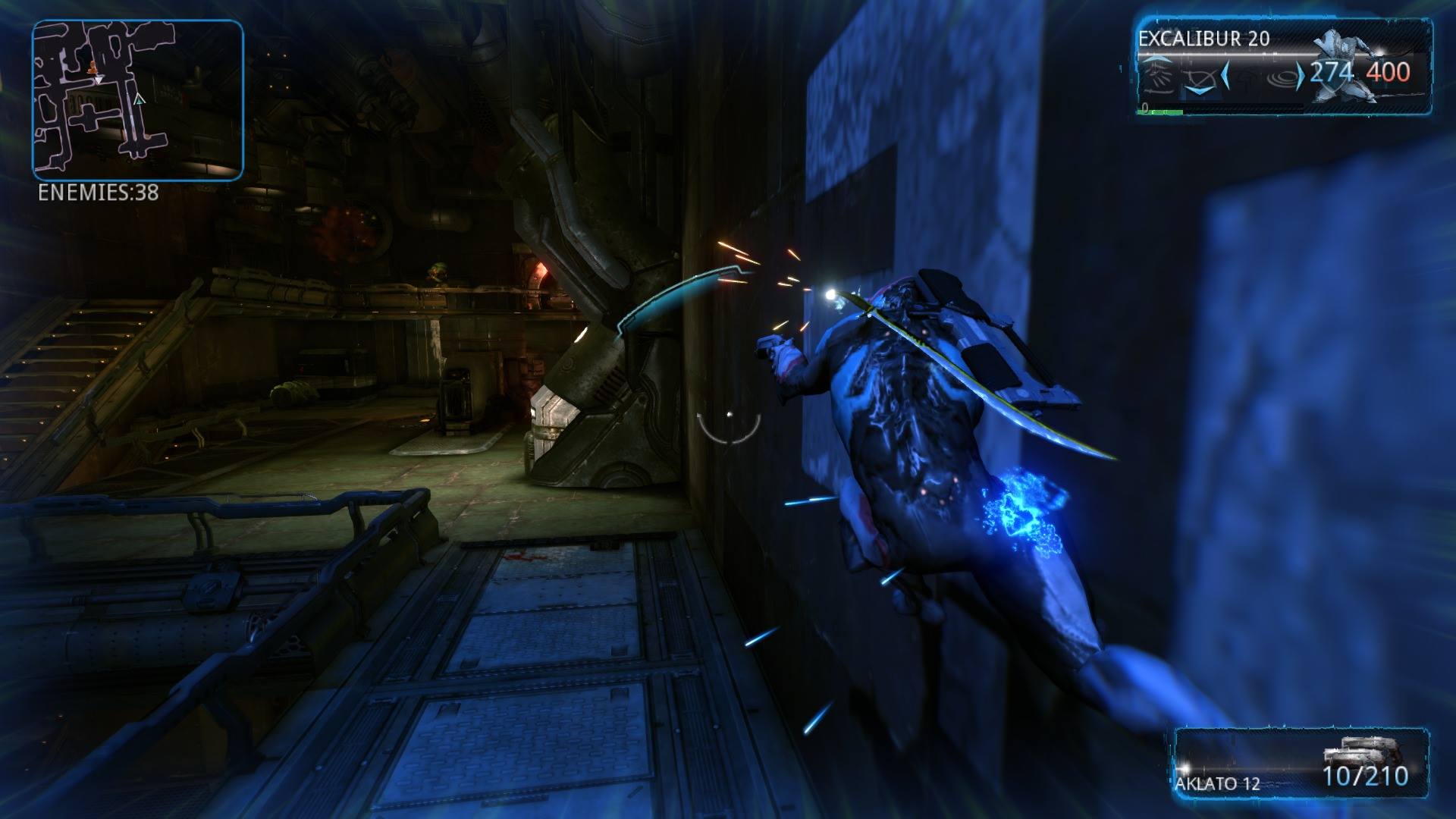 Click to view full gallery...
Q. You have already released your first major update for Warframe on PS4, Update 11: Valkyr Unleashed. Can you give our readers an overview of what they can expect to see in this new update?
We were so excited to show the PS4 community what Warframe is all about and I think we managed to pull that off with Update 11. This update contains two new Warframes, two new boss battles, a new tile set, loads of new weapons, skins, a trading system and beyond. The amount of content that went into Update 11 is mind blowing!

Aside from the content itself, we listened to the PS4 community since our Day 1 launch and added new PS4 specific features including transmissions coming through the DualShock 4 Speaker, a new and improved user interface, more feature bindings to the Dualshock 4 controller, and fixed some lingering bugs.

Note: For a complete list visit Warframe.com (https://forums.warframe.com/index.php?/topic/146989-update-11-valkyr-unleashed/)
Q. How is the update procedure for PS4 compared to PC? Do you think you will eventually be able to release future updates simultaneously on both platforms?
Both the PC and PS4 versions of Warframe are developed in tandem, but the major difference is Sony's certification process. All PS4 builds are subject to testing by Sony's internal team. This has always been the case with console titles and we're quite familiar with the process but it does take some extra work and time to complete.

We're currently working very closely with Sony to determine the future of the certification process with updates and how we can alleviate the turn-around time for each. Our ultimate goal is to simultaneously release updates without having to hold either platform back.
Q. Cross platform play between the PS4 and PC versions is something our readers are hoping will be added to the game in the future. Are there currently in plans to implement cross play?
Technically this is possible but at this time there are still a lot of issues to work out before the PS4 and PC builds will be in sync. Stay tuned…
Q. Trophies are another addition that PS4 players are looking forward to and I know you mentioned in the past that they will be added in a future update. Do you a time frame for when they will be added?
There's a good possibility players will be seeing Trophies in Warframe early in the New Year – keep your eyes peeled for further updates.

Andrew here. Since receiving the answers for this Q&A Digital Extremes have announced that Trophies will be included in the next update (11.5), along with controller remapping, Star Chart navigation logic, and other additions (https://forums.warframe.com/index.php?/topic/161561-ps4-115-infothread/).
Q. With every update to the game you seem to be adding new free content for players to experience. Will any future content be locked behind pay walls or DLC?
We learned our lesson early on about putting content behind a pay wall on the PC version.  Our community provided feedback loud and clear that changed our direction in that regard.  So, you can earn almost everything (aside from some cosmetic items) in Warframe from free.

Remaining completely F2P was high priority for us when speaking with Sony and how they were handling PS+ with F2P games.  Happily, they agreed to keep all F2P games outside of the PS+ pay wall.  Ninjas do in fact, still play free. We do offer additional goodies to those who have PS+ memberships but nothing you can't earn in the game for free over time.
Q. Any hints on what we might see in future updates to Warframe on PS4? Where do you hope Warframe goes in the future?
We certainly have a roadmap for Warframe for many months to come but as we get feedback from the community that roadmap can take detours.  The best way to find out about what is coming up in Warframe, what we're working on and to meet of few of our team members is to tune into our Dev Q&A Livestreams, held every 2 weeks on our twitch channel at twitch.tv/Warframe.  The first one of the New Year will be on January 10th at 2pm EST.
Q. Is there anything else you would like to let our readers know?
We just want to thank the community for the amazing support they've given us over the past year, especially this past month with our transition over to the PS4 console. We're extremely dedicated to making Warframe the best game it can be and we're thrilled we can share it with the PS4 community.
I would like to thank Pat Kudirka for taking the time to answer my questions and Meridith Braun for setting everything up. You can grab Warframe for free from the PlayStation store on PS4 in both North America and Europe. If you have any questions or comments about Warframe please leave them in the comments below.
---