Edge of Eternity Developer Q&A with Jeremy from Midgar Studio
Posted by Nick K on September 20th, 2013 | 2 Comments | Tags: Edge of Eternity
This past week I was fortunate to get a hold of Jeremy Zeler-Maury, CEO at Midgar Studio, to talk about Edge of Eternity, a multi-platform RPG inspired by JRPGs like Final Fantasy. It is being developed on the Unity platform and is coming to the PlayStation Network for PS4 and Vita, as well as to mobile and PC digital distribution platforms.
It's always fun talking with developers, especially when it's a new game that not many people even know about. It's my understanding that there is a growing populace of gamers that want more RPGs, so I hope you enjoy this Q&A with Jeremy.
Q: How big is Midgar Studio and how did the studio get its start?
Midgar Studio is a studio of 7 employees and 4 trainees. We are extremely versatile so it's very hard to tell what everyone does, in general there are some programmers, a lot of graphics artists and a musician.

No one has been by my side at the start of the studio. I had started everything by myself, creating websites first and games for some years. I eventually needed more employees and then — here we are.
Q: What experiences can you share with us that have led to the creation of Edge of Eternity and the need to put it on every platform under the 2014 sun? All except PS3, why is that?
We really think the J-RPG has a bright future. The genre is a lot less represented than before and I've heard many people say there are no new games like the good old Final Fantasy games. At Midgar Studio, we are all great fans of J-RPG so we decided to create one.

The choice of cross platform is a choice of myself. I think the future of videogames is cross platform gaming, playing everywhere in your favorite universe. We technically can release it to PS3 and if we can we'll do it but atm we are approved for PSVita and PS4. It represents the vision we have, a game that pushes the PSVita to its limits and a game that exploits the power of the next gen consoles to create an amazing TV/Console experience!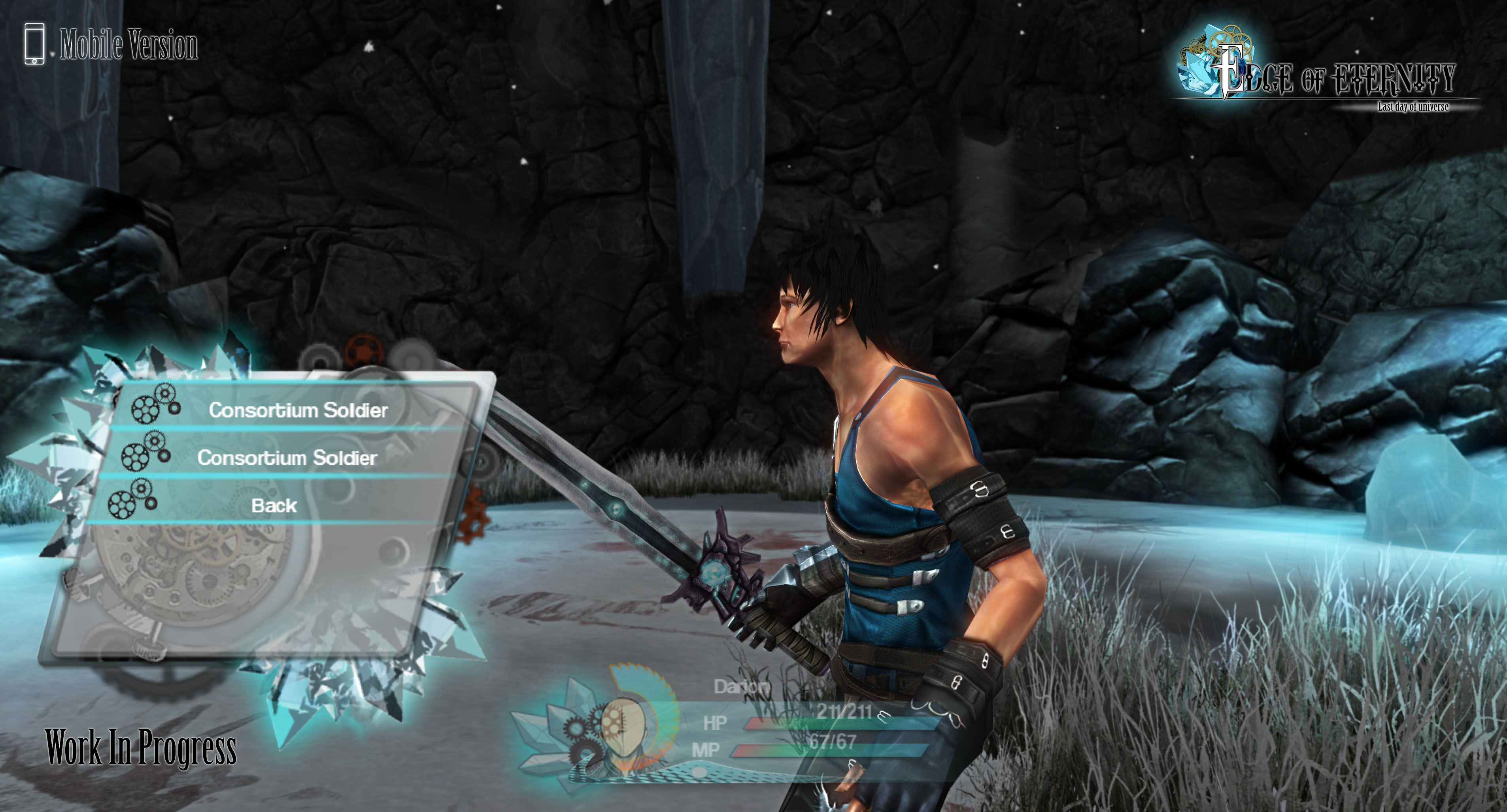 Click to view full gallery...
Mobile images above are representative of the Vita version.
Q: What has your experience been like talking with Sony about bringing EoE to PS4 and Vita?
We haven't talked very much with them. We started to release information about the game from about 4 months ago and the game became a game awaited by people on PSVita. Then we did our request to SCEE to be sure that we can for our Kickstarter and SCEE send us back a mail that's everything is OK and give us access to SDK and devkits.
Q: Can you tell us about Edge of Eternity. Is there a plan to continue supporting the title with post-release DLC or online at all?
We plan to support Edge Of Eternity later with free DLC. We want to create a universe and a saga. And to introduce this saga we must introduce some free episodes in DLC. Nothing is like giving life to your characters time after time!
Q: How quickly do you think you can have EoE running on PS4 dev kits thanks to Unity?
The game will be quickly up on PS4, we only need to recreate the shaders to match the PS4 but thanks to our Unity engine we don't have any code modifications to do to make it run on PS4.
Q: Any future plans for Midgar Studio outside of developing Edge of Eternity? Are you working on any other projects simultaneously or do you have plans to do anything further on PlayStation platforms?
 We put all the company resources on "Edge Of Eternity," this is the project of our life — we are dreaming about creating a saga!
I want to thank Jeremy Zeler-Maury and Midgar Studio for taking the time to answer our questions about Edge of Eternity. They will have a Kickstarter page up soon and we will let you know what that happens.
We look forward to seeing more about the game and sharing it with our readers. If you'd like to know more about Edge of Eternity, leave us a comment or question down below. Are you excited for a JRPG inspired by the beloved FF series?
---