Hands-on with Splice for PS3
Posted by Nick K on June 15th, 2013 | 0 Comments | Tags: E3 2013 , Splice
There were a ton of really good looking games at E3 this year, one of which is called Splice coming soon to PS3. It's not an entirely new game as you can find it on Steam, App Store for Mac, iOS, and on the Google Play Store for Android devices. Now Cipher Prime hopes to Move its game onto PS3.
Manning the two kiosks running Splice on PS3 was Nikkolai Davenport, Resident Bad Boy for Cipher Prime. That's his actual title! The developer hails from Philedephia where they not only make games, but also host a weekly social event they call Philly Dev Night. If you're a Philadelphia gamer, dev, or someone who likes to talk a lot on Thursdays exclusively, go check them out.
So, during my hands-on with Splice I learned a little bit about what the heck it is, having never played any previous version of the game mind you. It's a puzzle game whereby you move these pills around to the empty spaces so that all spaces are filled. The gameplay is very cerebral and had me forecasting my moves, but not until I exercised plenty of trial and error. Later levels will incorporate mutated pills (not the official name of those things) that will split or push nearby pills.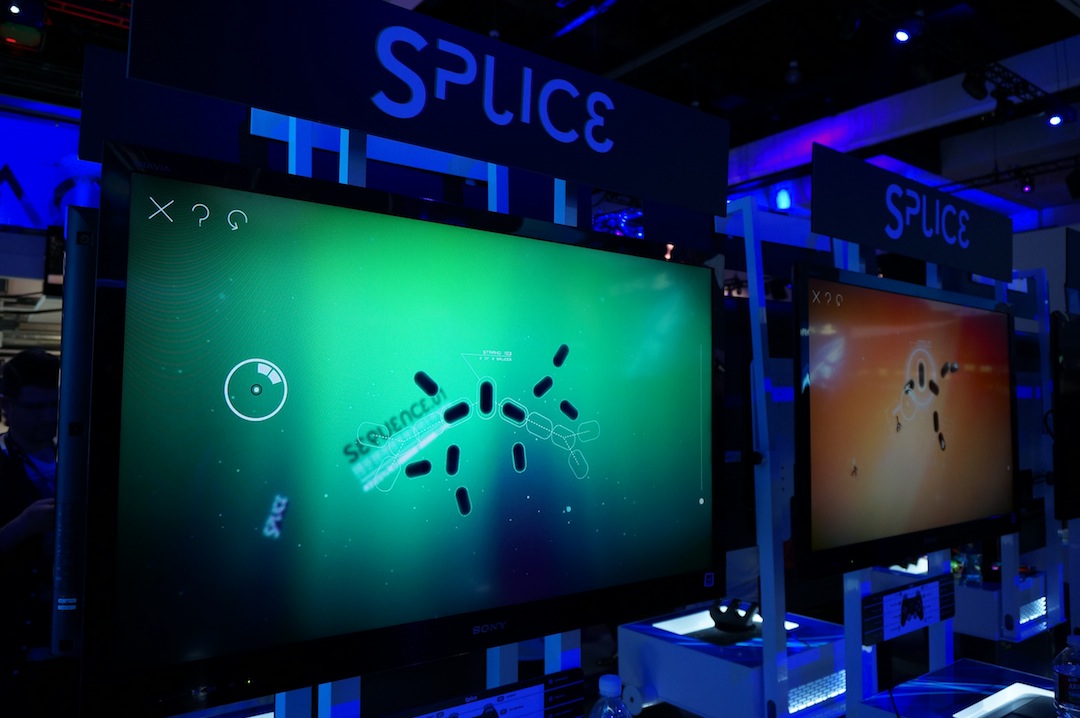 Click to view full gallery...
There is a way to perfect a level so that the solution is solved in a single move and the game refers to that as an "Angelic" solution. I was told the trophies will essentially be identical to the Steam achievements, but with a few extras thrown in for good measure. Expect the trophies to pop for simply completing chapters of puzzles, followed by the worlds, and going as far as Angelic for all.
I had a great time with this indie gem and played for a good 30 minutes before realizing how much time had passed. There is also a fast-forward and rewind feature that manipulates the lucid musical tones of which I kept spamming for effect. I hope you guys are as excited about the mega-push for indies by our beloved Sony as I am post-E3.
Stay tuned for a Q&A with Nikkolai Davenport from Cipher Prime from Philadelphia. I'm barely allowing him to recover from the mayhem of the events. Now is your chance to submit any questions you'd like to ask in the comments section below.
---