Amiga classic Putty Squad coming this summer to PS3 and Vita
Posted by Nick K on May 17th, 2013 | 4 Comments | Tags: Putty Squad
System 3 is celebrating 30 years in the business with a few of those years spent developing Putty Squad. They're finally readying the title for a summer release on PS3 and Vita despite the original plan was to have it be a Vita launch title. Let's watch the trailer and talk about what the PS3 and feature-rich Vita is allowing them to do with Putty Squad.
Our squishy hero named Putty is celebrating his own 20 year anniversary, havin originally graced curved CRT television sets back in 1992 on the Amiga. He is being brought back by his original creators for several platforms in what looks to be a reimagining of the original. That is to say all new graphics and tweaked gameplay to meet the demands of today's standards.
Graphics
On Vita, every visual detail of the game has been redrawn and rendered specifically for the 5″ OLED and its resolution. The original designs of Phillip Thornton remain while being bumped up for this generation. And like all new releases, expect full trophy support.
Click to view full gallery...
GPS
Putty Squad stickers can be acquired by way of the Vita's GPS and will be used to unlock avatars. "For example, going to a football stadium will unlock a correctly attired Avatar, visiting the natural History Museum will unlock an ancient Inca level or visiting the Science Museum will unlock an outer space level." The details of these unlocks are to be determined. Additional free DLC levels will be doubled exclusively for Vita, most of which will unlock via location-based services (GPS). Every two weeks after Putty Squad releases, a new level will be released on the PlayStation Store.
Controls
The front touch screen can be used to zoom in or out of the action to help with precarious platforming or to simply admired the graphics (a la Rayman Origins). There will be a Map Mode accessible and interactive with just the touch of your finger to the front screen. The rear touch pad is said to be used for certain in-game actions such as inflating or floating.
Modes
There will be a story mode reminiscent to the original game. Also, a Time Trial mode which is said to be where some of the game's trophies can be unlocked by obtaining fast times in the speed runs. A Tutorial mode is included obviously as a support mechanism in case you feel the need for a refresher course or a place to practice the controls without a ton of enemies on top of you.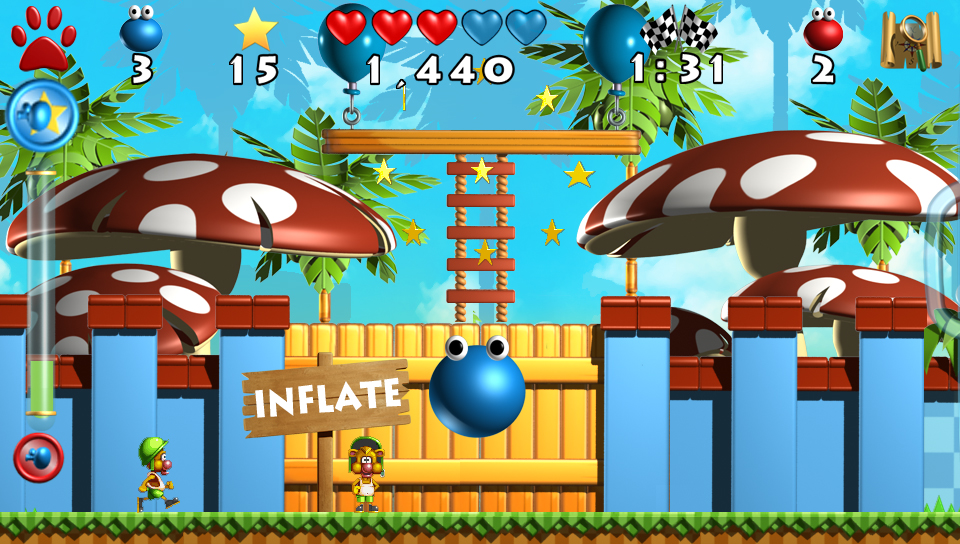 Click to view full gallery...
Game Sharing
Here's something new, Putty Squad will have a feature I remember using back on the Nintendo DS called Game Share where only one person needs to have the full game to be able to share a limited version with three other Vitas. This is not a feature that the Vita currently supports unless the ability is baked into the OS without people knowing it.
Hopefully not much has changed in the way of the above features, many of which were announced back in February 2012 with some just dropped on us this week. What are your thoughts on this game, all the new updated features, or Game Sharing? Are there any games that utilize Game Sharing on Vita right now? Tell us your thoughts in the comments section below…
---