PlayStation Mobile Developer Interview: Chimpact
Posted by Chris K on February 12th, 2013 | 1 Comment | Tags: Chimpact , PSM Q/A
Chimpact is a game we have known about for quite some time. While we haven't had any hard details about the PlayStation Mobile version, it was first displayed in one of the original sizzle reels during the run up to launch.
I had the chance to ask Lorraine Starr from Yippee Entertainment a few things about Chimpact, so enjoy another PSNStores PSM Dev Q/A.
Q: How would you describe Chimpact?
Chimpact is a one-touch arcade puzzle game that is fun to play and hard to master It features the very cheeky Chuck the chimp as he catapults his way through the jungle searching for bananas and hidden gems.
Q: How did the team come up with the concept?
With a new team we needed a new product. Keen to create something fresh, Chimpact was born out of our love of old console games from our youth in the 8 and 16 bit days. We had a desire to make a fun, physics-based game with an engaging main character. Various ideas were put into the pot, but none of them generated very much excitement, until the magic moment when Kev our lead artist said "I know, let's make pinball with monkeys". We all sat there smiling and each one of us could picture it in our heads. Simple one-touch control, rich graphics, absorbing gameplay and FUN!!

Q: How do you control the Chuck?
Chuck the Chimp is touch screen controlled. It's really easy to pick up and play, you literally grab the vine that he lands on and launch him through the Jungle.
Q: Do the different levels offer up new challenges?
In Gem Quest the game is very easy at the start, but it definitely gets progressively harder. More jungle creatures appear to make your journey more hazardous and the puzzles become trickier to solve. The Totem Trial mode is packed full of challenges!
Q: I noticed there are other chimps, how do you gain access to them?
The other Chimps are unlocked playing 8, 16 and 24 levels in Gem Quest. There are no in-app purchases currently in the PlayStation Mobile version.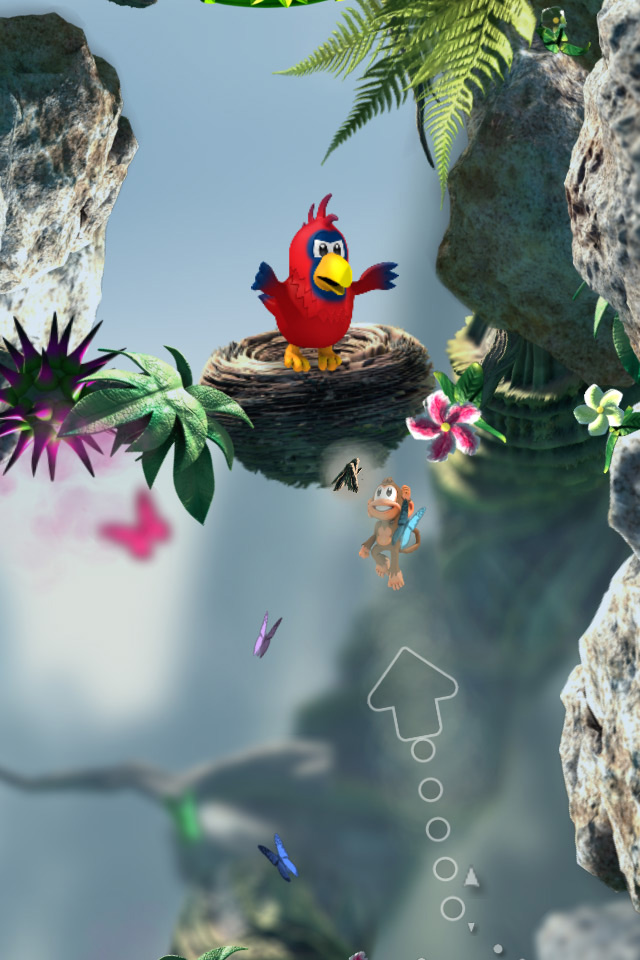 Q: Can you explain other ways to spend bananas?
You can also purchase special abilities in the shop, again with bananas. These abilities will help you throughout the game. There are items such as a spyglass which will show you where those really hard to find gems are hidden.
Q: Are there any differences that the PSM version of the game has?
The PSM version has a unique chimp that is not available on any of the other formats.
Q: What was it like bringing the game to PSM compared to iOS or Windows Phone?
We have created our own suite of tools which have stood us in good stead when it comes to developing the game for different platforms.
Q: Anything you would like our readers to know?
Chimpact has been a real labour of love for us and we hope that you have as much fun playing as we did making it.
I want to thank Lorraine for answering our questions. Chimpact will be available for download on the PlayStation Mobile store later tonight for $3.99. We should have some impressions up a few hours after release.
---