Who's That Flying?! – Next Mini From Mediatonic
Posted by Chris K on August 4th, 2010 | 3 Comments | Tags: Mediatonic , Who's That Flying?!
Earlier this week we posted a teaser image from Mediatonic's next PlayStation Minis title. Rumor had it that it that the game would be titled, "Who's That Flying?!" Well I am happy to report that those rumors were correct, and the game is ready to be seen by all.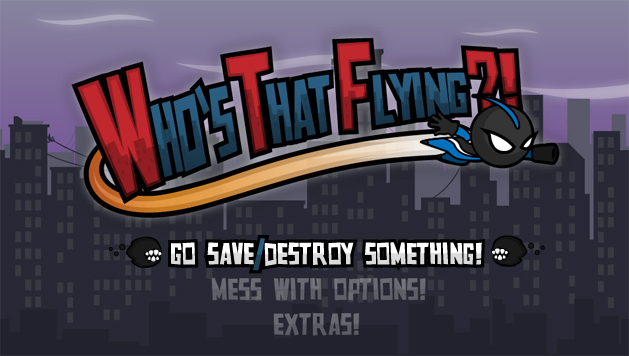 Who's That Flying is described as "a side-scrolling shooter meets tower defense (with courtroom drama and intrigue!) doused in sheer awesomeness… AND THEN SET ON FIRE." While I am not sure about that set on fire part, I can tell you that it is in fact a mash-up between those two genres. Players control the Guardian of Earth who is dead set on protecting us from the evil Doom Beasts, which have come to destroy the cities of Earth.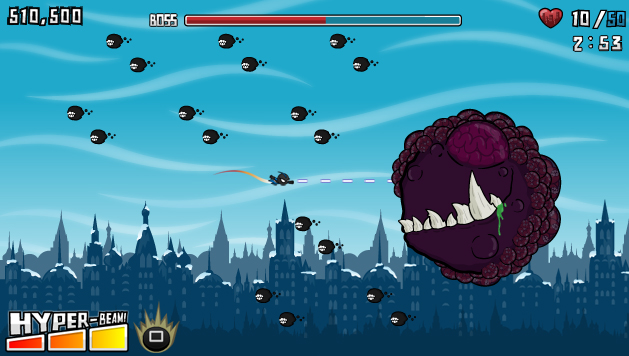 So you are going around shooting monsters with your "HYPER-POWERED LASER ARM" (like a side-scrolling shooter), but if a certain number get past you the city is screwed and it is game over (like a tower defense game). So it is best that you don't take any damage, otherwise the beasts will just fly right by.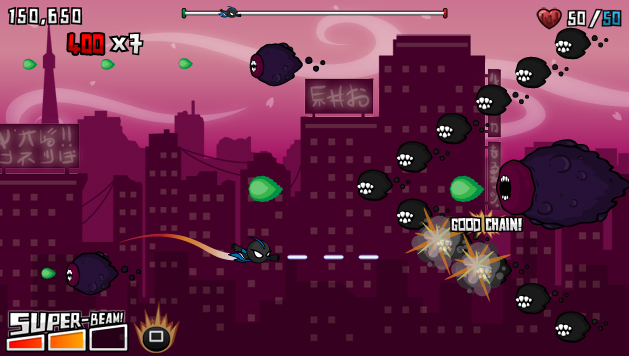 Much like Monsters (Probably) Stole My Princess, WTF?! has a story that is full of the same awesome writing and cut-scenes that you expect from Mediatonic. With it being told from the stand point of the Guardian being interviewed by his bosses at the Galactic council.
The Story missions take place across 6 levels, but there are also 4 "infinite" modes to play with. Also much like with Monsters there is a challenge mode, this time packing 25 different challenges to tackle. The game is all done and just needs to get rated and go through certification, so expect to see it on the PSN store some time this September!
Follow Mediatonic on twitter to get the latest news on this and their other games.
---