PSN Can Move Too
Posted by Chris K on July 25th, 2010 | 2 Comments | Tags: Beat Sketchers , Dead Space Extraction , echochrome 2 , Flight Control HD , Hustle Kings , Pain , Plain Sight , Planet MiniGolf , PlayStation Move , Soaked! , Tumble , Under Siege
So if you plan on getting a PlayStation Move this fall, but don't want to spend a whole lot on games for it you are in luck! The PlayStation Network will also be getting their fair share of titles that support the upcoming motion controller. The main thought behind is post is to point out a few of those titles for you. Do note though, this isn't an exhaustive list (I will probably be missing some titles). I will start off with one that will be out in time for launch. Please note that these dates are not final and are subject to change.
Flight Control HD
Leaked just last week, via PlayStation Asia press releases, this is a fan favorite on the iPhone and iPad. While this game can be played with just a DualShock 3 controller, it will offer the user the ability to play with the Move. Seeing how this was a "touch" game to start with, it seems like this is a good fit for the PlayStation Move. (Release Date: September 15th | Europe & Asia)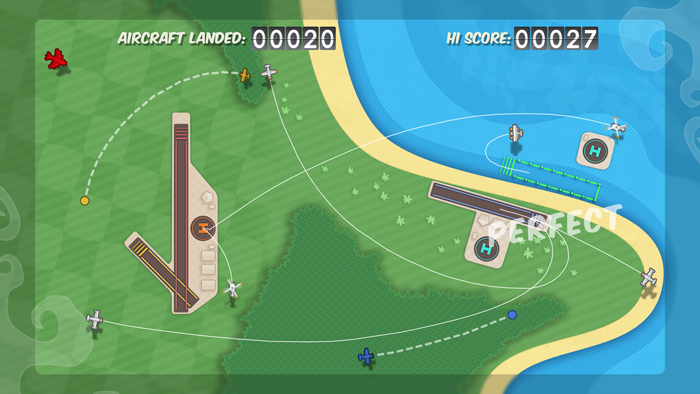 Beat Sketchers
Not too much is known about this title at the moment. Although it can be pinned as a PSN release from the same list that leaked Flight Control. Based on the screens, it there doesn't seem to be much game behind it, as the player looks to be drawing shapes on the screen. There is no option for DualShock control in this game, so you will have to have a Move controller to try it out. Once there is more information on the game, I will be sure to post it. (Release Date: September 2010)
echochrome ii
Another game that will be exclusive to players with a PlayStation Move. Much like how you controlled perspective in echochrome, you are tasked to control shadows in echochrome ii. To do this you must use the Move controller like a flash light. There will also be level creation and once you make that level it can be uploaded online so that others can try it out. The interesting thing about the level creation is that you only have to draw what the shadow looks like and the game will populate the blocks in the proper location. This one is definitely on my watch list. (Release Date: September 2010)
Tumble
Another game that looks a lot like a tech demo; this one is all about stacking. There are over 50 challenges for you to solve. Some that involve stacking and other that involving balancing and collapsing. Plus if you are a baller and have an 3D TV, you can even stack in 3D. There is multiplayer, but it is local only. Sorry not any online stacking in this one. Not much else I can really say about this game, the screenshots pretty much explain it all. (Release Date: September 2010)
Dead Space Extraction
If you didn't get a chance to check this out on Wii, now is your chance and with HD visuals. EA was proud to announce this title at their press conference during E3 this year. It will be out on the PlayStation Store, but you will also be able to get it as part of the Dead Space 2 Collector's Edition. If you didn't check it out before, this is a "guided experience" which is PR speak for on-rails shooter. It is also the prequel to the original Dead Space game, if you care about the mythology, and you learn of the beginnings of the Necromorph infection on the USG Ishimura. (Release Date: January 2011)
Plain Sight
I will just let the trailer try to explain the madness.
From our story earlier in the year, the game will not be Move exclusive, so don't worry you can play with a DualShock 3. But if you are playing with a Move, the online modes will be segregated, so that one control type won't have advantage over the other. (Release Date: TBA)
Soaked!
All we have for this title is a name and the developing studio at the moment (Big Ant Studios if you were wondering). The last game they put out on PSN was World of Outlaws: Sprint Cars, which I haven't played any of so I don't really know what we are working with here. I did however try to contact them, but nothing as of yet. Once we get more info on this one, I will definitely post it on the site. (Release Date: TBA)
Ignite
This game is coming from Nemesys Team Studio which is based in Hungary. The last game they put out on PSN as the minis title, Fortix which in its original form was kind of a let down. They did later patch it and it became quite playable then. Ignite is their next title to be released and it is an arcade racer. Judging from the description on the website, it sounds a lot like Project Gotham Racing as players try to rack up score points during the race while also trying to place first. There is something different about it though as you can either use those points as fuel for boosting, or you can store them and have it take away time from you final race time. Based on the Asian press release this game will support Move, but it will not be exclusive to it. It is an interesting concept and I look forward to hearing more about it. (Release Date: TBA)
Under Siege
Console RTS games can be a hard sell, but Seed Studios are hoping that the Move can change that. Originally slated to be out in the Spring, Under Siege was pushed back so that it could be released to coincide with the Move controller. In what they call a Real-Time Tactics game, players will have to spend resources wisely, as much like in a RPG game, unit's health and status will carry over from battle to battle. The game really pops as you can tell from the screens and will render in full 1080p. Unit selection should be something that the Move does very well. (Release Date: Winter 2010)
The rest of these games are already out on PSN and will be receiving updates that will add support for the Move controller. So if you have these games already, you are ready to Move right now.
Hustle Kings
With over 100,000 players on the leaderboards right now, it is no wonder Voodoo Studios will be bring Move support into their first class billiards game. Pool is one type of sports game that totally lends itself to motion gaming. I just hope that I can break better with a Move controller that I can with a real pool cue, otherwise this won't be pretty. (Patch Release: October 2010)
High Velocity Bowling
I got this one as a freebie with Qore and haven't really touched it much. The idea of bowling with the SixAxis controller in my hand just seemed weird to me. Luckily they are going to be patching in Move support, and if my Wii Bowling scores are anything to go by, I should be a ringer online. (Patch Release: October 2010)
Pain
Much like with the patch for 3D support, Pain will also be getting some for Move. Hopefully along with patching in controls for the old levels, I hope there are some new game modes that fully take advantage of the controller. (Patch Release: October 2010)
Planet MiniGolf
This is another sport that is perfect for motion gaming. As there are going to be two full Blu-Ray golf titles, Tiger Woods PGA Tour 11 and John Daly's Pro Stroke Golf, it is nice to see that minigolf will not be forgotten. (Patch Release: TBA)
Well that about wraps this up. I am sure there will be many other games in 2011 that will feature Move support, and I am actually looking forward to it.
---