Topatoi: Pillar of the Skies Coming Soon
Posted by Chris K on January 28th, 2010 | 1 Comment | Tags: Release , topatoi
Hong Kong PSN site leaks another one. This time it is the release date for the next part of the topatoi saga.
topatoi™ for PlayStation®3 brings your screen to life with classic platforming gameplay over a variety of dynamic levels. Continue your journey through the brand new world of Sky Pillar with this exciting new add-on. New environments, a new gameplay experience, new bonus levels playable alone or in co-op mode, are all waiting for you in this, the second episode of topatoi™ saga!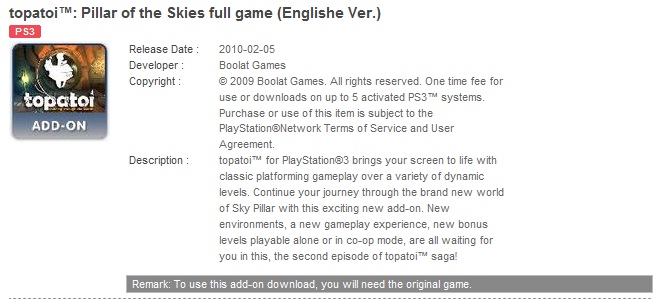 I am going to contact Boolat to see if it is indeed coming out next week. Stay tuned.
---